Top Dishes of Delhi Dil Walon ki
July 20, 2019
Historical Delhi, officially the National Capital Territory of Delhi, a city and union territory of India also includes New Delhi, the capital of India. It is also known as Indraprasth- a legendary capital city of Pandavas of classic Mahabharat. Seized, plundered and reconstructed number of times, this cosmopolitan city is also popularly known as- Dilli Dillwalon ki, literally meaning a city of large-souled people.

Served as capital of many a kingdom and empires, famous for its myriad magnificent, forts, temples, tombs, Gurudwaras, mosques, churches etc., Delhi has a rich history and culture and ruled by glorious Hindu Kings, Mughals and British. This capital city of India is also very famous for its delicious foods representing its rich culture. Fast moving life of Delhiites has led to develop a vast range of street foods and Dhabas in the capital, especially, in the streets of old walled city and visited by foodies from across the city, top politicians of India and iconic celebrities of Bollywood and their gets their accolades.

In this blog

highlights select top dishes and street foods of Delgi which are lip smacking and easy to make at home.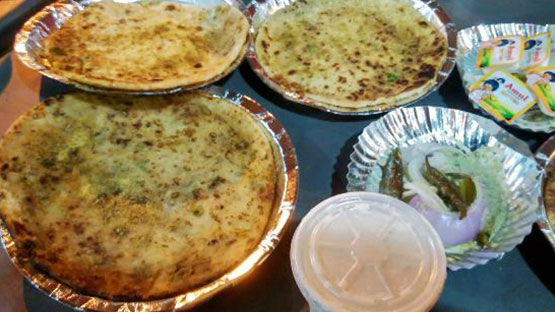 Moolchand Parathe Wala ka Parantha

Delicious Parantha is a spicy Indian flatbread relished as breakfasts, lunch, dinner or at teatime snacking. Right place to have the best Paranthas in Delhi is Moolchand Parathe Wala located under Moolchand flyover, near Moolchand Metro Station in Lajpat Nagar, New Delhi. The joint offers a variety of Paranthas, stuffed with- Aloo (potatoes), Gobhi (cabagge) , Paneer (Indian cottage chees), onions etc. seasoned with accentuating spices and shallow fried from both the side. Served hot with a dollop of butter and a glass of spicy Chhachh (butter milk), the dish will satiate your hunger pangs with its spicy flavor.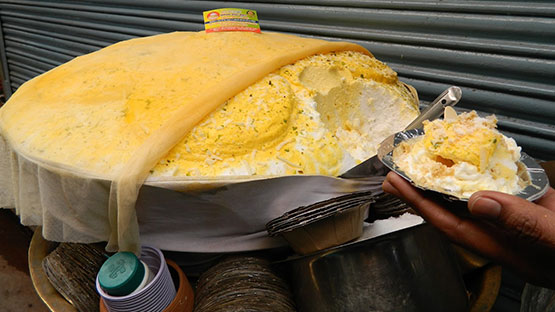 Daulat ki Chaat

Although the dish is called as a Chaat, but it has got nothing to do with it, as Daulat ki Chaat is a luscious dish. The right joint to have the best Chaat is at Daulat ki Chaat located near Naughara Jain Temple, Kinari Bazar Gali and Gali Paranthe Wali in Chandni Chowk area of Old Delhi. Also known Nimish in Lucnow and Malai Makhan in Kanpur, the dish derives its name owing to the reason that the dish is like a wealth (Daulat) and lasts for a short period and since it is licked, hence called a Chaat. This soft of the softest dish is prepared by churning thick creamy milk and froth of it is collected in a bowl, added with safrony milk, Khoya (condensed milk), dice dry-fruits and ground sugar and finally topped with yet another layer of the froth. Served instantly, this ethereal dish will sooth your palate with its heavenly soft creamy flavor.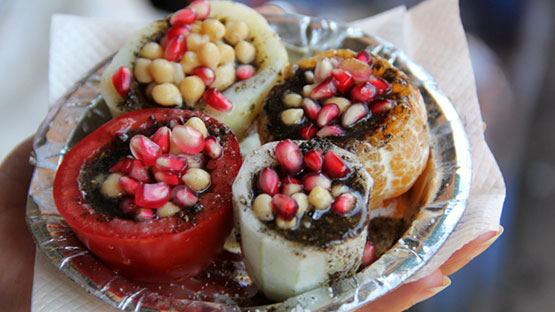 Heera Lal Chaat Corner ki Kulle Chaat

Kulle Chaat is a unique spicy, sweet and savoury fruit chaat and relished as a snack. Although, a lot of vendors are there in Chandni Chowk area, but the best place to relish this dish is Heera Lal Chaat Corner located in Gali Lohe Wali near Metro Station, Gate No. 3 on Chawri Bazar Road. This rare Chaat is made from boiled potatoes or any fruit, like- papaya, water melon, guava, mangoes, tomatoes, cucumber etc. scooped in the center and stuffed in the hollow place with boiled chickpeas, pomegranate etc. sprinkled with black salt, black Chaat Masalak, tamarind paste, a dash of lemon etc. Served instantly by garnishing of green coriander leaves and finely cut green chilies, just a bite of it releases gush of multi-flavours in the mouth. The dish gets its name from the Kulhad- an earthen cup to have tea, milk or coffee as the scooped potatoes and other fruits resemble the shape of the same.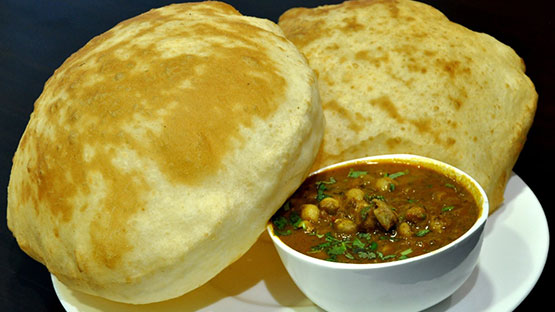 Sitaram Diwan Chand ke Chhole Bhature

Delicious Chhole Bhature is a spicy dish from North India and relished as breakfast or main course at lunch and dinner. Sitaram Diwan Chand, located on Rajguru Marg, Chuna Mandi in Paharganj area of New Delhi. This scrumptious dish is made from the overnight water soaked black gram fried in oil with diced onions, garlic, green chilies, asafetida (Heeng) etc., seasoned with spices, like- salt, red chili powders, turmeric powder, coriander powder, Chaat Masala etc. added with water and simmered on high heat till the gravy gets a thicker consistency. Served hot by garnishing with green coriander leaves along with onions rings, lemon wedges, tangy pickle and puffed deep-fried Bhature (round Indian flatbread) stuffed with grated cheese, the dish is irresistible to try for its spicy flavor.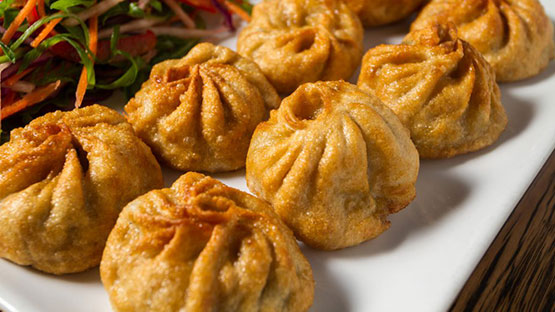 Nagaland Food Stall ke Momos

A signature Tibet dish- Moms is a spicy dish savoured as snack. The best place to have a variety of classic Momos is Nagaland Food Stall located at Stall No. 19, opposite INA Market in Dilli Haat, New Delhi. These flavoursome dumplings are made from the round portions of fine flour dough stuffed with spicy sautéed Masala prepared from grated veggies like- cabbage, carrots etc. and either steam cooked or deep-fried in oil. Served hot with red garlic and mayonnaise chutneys, this delicious dish will make your lips to smack with its pungent spicy flavor.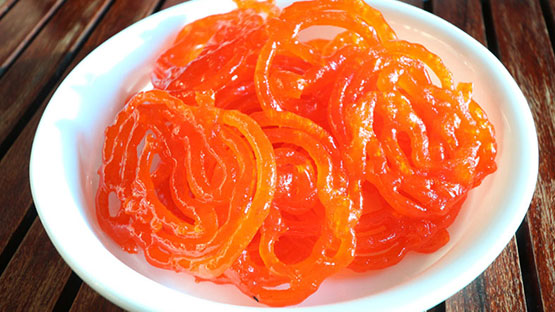 Old and Famous Jalebiwala ki Jalebi

Mouthwatering Jalebi is a luscious dish relished as a dessert. To have the best Jalebis in Delhi is the decades old Old and Famous Jalebiwala located at Dariba Kalan opposite Central Baptized Church in Chandni Chowk area of Delhi. This delectable sweet dish is made by deep-frying fermented batter of fine flour in circular shapes in homemade desi Ghee (clarified butter) on coal-fire and dipped in sugar syrup flavoured with ground green cardamom. Served hot the dish is highly tempting to relish for its heavenly luscious flavor and pairs well with hot creamy and nutty milk.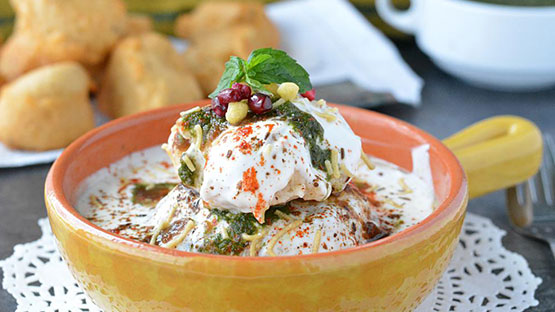 Natraj Dahi Bhalle Wala ke Dahi Bhalle

Delectable Dahi Bhalle is a spicy sweet and tangy delicacy relished as a snack or a side dish with main course. Natraj Dahi Bhalle Wala located at Bhai Mati Das Chowk near Chandni Chowk Metro Station is the best joint to try this dish. These delicious dumplings are made by deep-frying the batter of overnight water soaked black gram, cooled and soaked in plain water. Served instantly by squeezing the water, sprinkled with salt, red chili powder, roasted cumin powder, topped with fresh yogurt, spicy green coriander/mint and sweet and sour tamarind chutneys, this exotic dish will surely tickle your taste buds.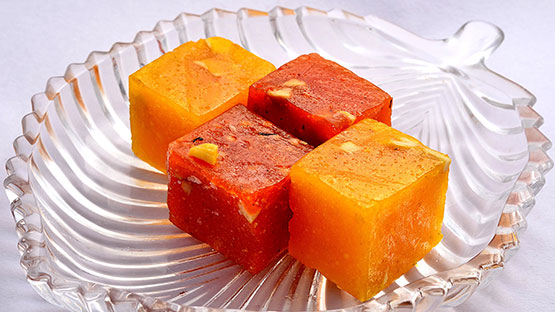 Chaina Ram ka Karachi Halwa

The scrumptious Karachi Halwa is a chewable sweet delicacy. The right joint to relish this scrumptious delicacy is Chaina Ram Sindhi Confectioners situated at Fatehpuri Chowk in Chandni Chowk are. This amazing dish is made in pure Desi Ghee (clarified butter) from corn flour added with edible food color to the sugar syrup (Chashni) and Ghee, cooked to the thick Halwa consistency, poured into the trays greased with Ghee, cut into the desired shapes and garnished with dry-fruits, like- diced cashew nuts, almonds etc. Served instantly, the mouthwatering dish will sooth your palate.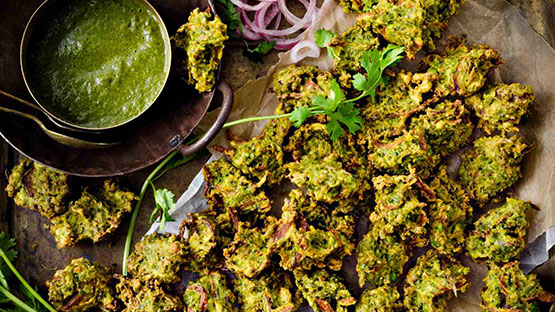 Khandani Pakode Wala ke Pakode

The delectable Pakaude/Pakode is a spicy dish savoured as snack, appetizer or a side dish with main course. These spicy fritters are made from a variety of vegetables dipped in the batter of gram flour seasoned with usual spices- cumin seeds, asafoetida (Heeng) etc., deep-fried and relished with spicy mint/coriander chutney. To try the best Pakode in Delhi is the Khandani Pakodewala located on Ring Road, Nauroji Nagar near Sarojini Nagar. The joint is famous to serve a variety of spicy Pakode made using Paneer (cottage cheese) and veggies, like- Paneer Pakauda, Kamal Kakdi (lotus stem) Pakode, Onion and Potato Pakode, Gobhi (cauliflower), Karela (bitter melon) Masala Pakode, Bread Pakode,, Mix Veg Pakode, Green Chili Pakode, Palak Maithi (spinach-green fenugreek) Pakode, Mirch (green chili) Pakode and many more to be savored with spicy green chutney.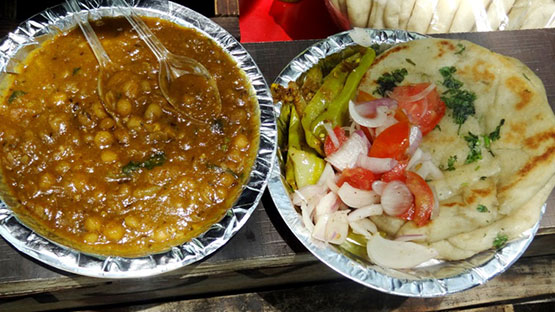 Lotan Kulche Wala ke Chhole Kulche

Delectable Chhole Kulche is a spicy combo relished as brunch, lunch or dinner. Best Chhole Kulche can be tried at Lotan Kulche Wala located at Chatta Shahji in Chawri Bazar, Near Nai Sarak. Delicious Chhole is made from overnight water soaked chickpeas fried in oil with finely cut onions, garlic, green chilies, tomatoes etc. seasoned with regular spices, added with Garam Masala (assortment of several spices) and cooked till it turns in a thick gravy. Served hot by garnishing with green coriander leaves topped with diced onions, green chilies, a dash of lemon along with Kulche- a flatbread made from leavened fine flour, the dish is enticingly flavoursome to try for its extra spicy flavor.
These are some of the top dishes in Dilli Dilwalon ki that can be easily prepared at home and are also abundantly available at the nearby street vendors or eateries. If you wish to know more about such delicacies and locate your nearby joints, download the

app right away!

Back