Relish Ravishing Ram Navami Dishes
April 12, 2019
Happy Ram Navami!!
Ram Navami is one of the most important Indian festival celebrated with a great fervor across the nation marking as the birth of Lord Ram. It falls on ninth day of ChaitraNavratri. Not only in North or Western India, it is one of the most important festival celebrated in South Indian states of Andhra Pradesh, Telangana, Tamil Nadu etc. On this auspicious day people observe full or partial fast, visit the temple of Lord Ram, chant hymns, read holy Ram Charit Manas and hold night long musical concerts singing devotional songs (Bhajan) in glory of Lord Rama.

On this auspicious occasion,

endeavours to bring forth some sweet and savoury dishes which can be made at home and add to the festivity of Ramj Navami.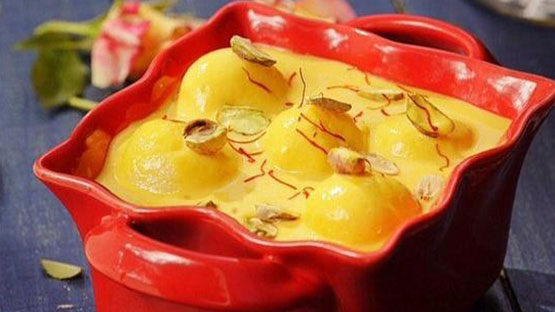 Mango Rasgulla

A unique treat to taste buds, Mango Rasgulla is a luscious dish from West Bengal and relished as a dessert. This splendid delicacy is made from the round-shaped dumplings of Chhena (Indian cottage cheese) added with mango puree, immersed in the sugar syrup prepared from sugar, mango puree and saffron strands, boiled till Rasgullas increase in the size, poured with extra sugar syrup and served chilled after garnishing with pistachio and saffron strands.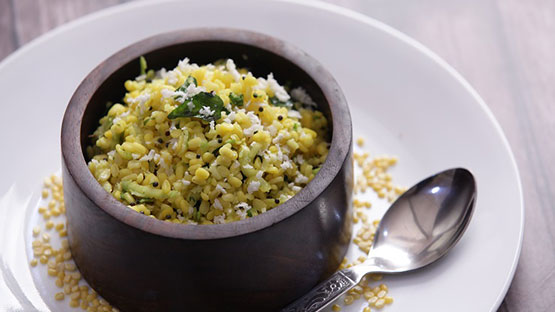 Kosambari

Delicious Kosambari is a savoury dish from South India relished as a salad or side dish and served to Lord Ram as Naivedyam on the auspicious occasion of Ram Navami. Prepared from water soaked Moong Dal (green gram) added with finely cut cucumber, green chilies, grated coconut, lemon juice etc., poured with tempering of mustard seeds, curry leaves, asafoetida (Heeng) in oil, finally added with salt.Served chilled, the dish is sure to tickle your taste buds.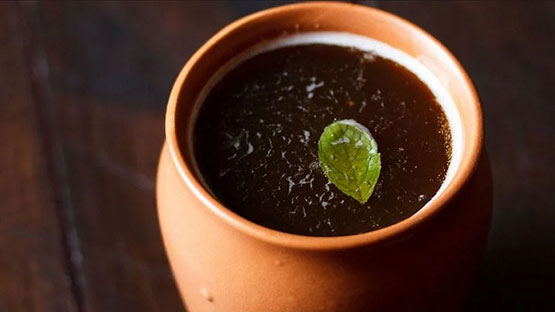 Pankam

Scrumptious Pankam is a sweet and sour cold beverage from South India and served to Lord Ram on holy festival of Ram Navami. This simple and full of mineral drink is made from jiggery boiled in water, added with ginger, crushed basil leaves etc., flavoured with ground green cardamom and served chilled will not only make you to drool, but also help you beat the heat of summer.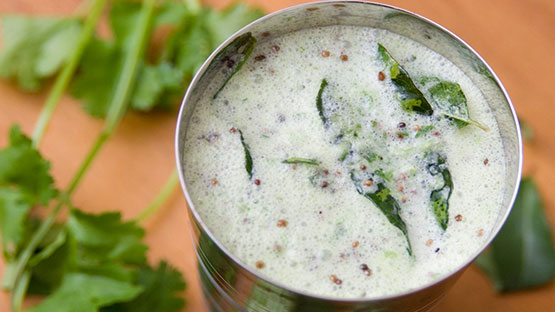 Neer Mor

Neer Mor also called as Neer Majjige or Neer Moru is a sour and spicy butter milk from South India savoured as an appetizer or a cold drink or can be taken after meals and offered to Lord Ram along with Pankam and Kosambir on Ram Navami. This delicious drink is made by blending in a blender yogurt, finely cut ginger, green chilies, curry leaves, salt etc. poured with tempering of mustard seeds and asafetida. Served chilled, this amazing cold beverage will help regulate your digestive as well save you from heat stroke.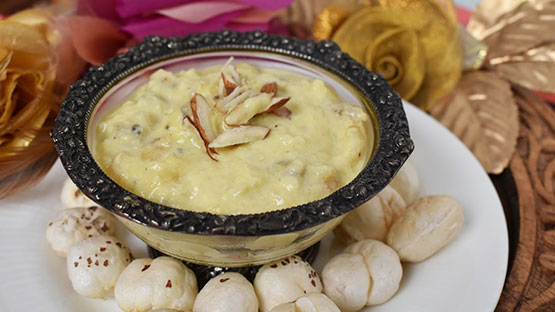 Makhane ki Kheer

Drooling Makhane ki Kheer is again a luscious delicacy from North India offered as Naivedyam on festive occasion of Ram Navami and relished as a dessert. The dish is made from the powdered and roasted Makhane (foxnut or lotus seeds) and cashews added to boiling milk, further added with whole roasted Makhane, allowed to simmer till milk gets thicker and Makhane are softened, sweetened with sugar, flavoured with saffron strands, ground green cardamom and served hot or chilled.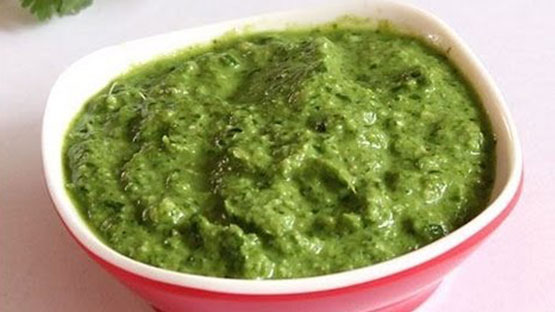 Cucumber Chutney

Cucumber Chutney also called as Dosakaya Pachadi is a delicious spicy and sour dish from Andhra Pradesh and served to Lord Ram on Ram Navami. It is prepared from peeled and diced cucumber added with paste of sautéed black gram (Udad Dal), Bengal gram (Chana Dal), cumin seeds, green chilies, red chilies, salt, curry leaves, tamarind paste etc. blended in a blender together and poured with tempering of mustard seeds and asafoetida. This lip smacking chutney pairs well with steamed rice and Dosa.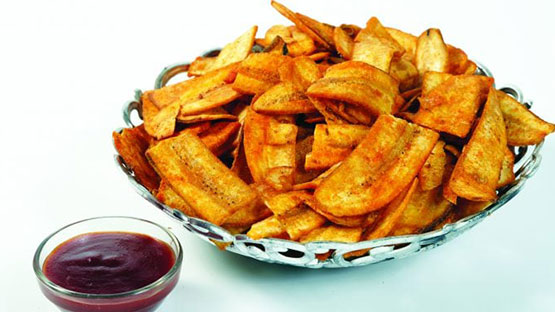 Kele ke Wafers

Kele ke Wafers is a delectable savoury delicacy from South India, especially, from Kerala, relished as any time snack during fasting days and can be made at home with ease. Made by slicing peeled raw bananas directly in hot oil, added with salted water and sprinkled with Kashmiri red chili powder. Served with a hot cup of tea, coffee or any cold beverage, crisp Kele ke Wafers will surely tickle your taste buds with its savoury flavor.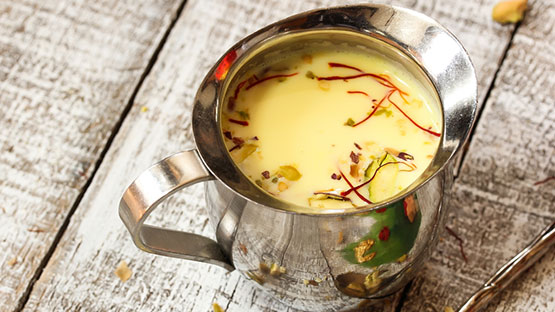 Masala Dudh

Mouthwatering Masala Dudh is a flavoured sweetened milk beverage from Maharashtra. Made from dry nuts, like- almonds, cashews, cloves, green cardamom seeds, saffron strands etc. grinded in a grinder to a semi coarse powder added to boiling milk, further added with grated nutmeg (Jayphal), sweetened with sugar and served hot or chilled.This luscious beverage will make you to drool and add enormous pleasure to your taste buds.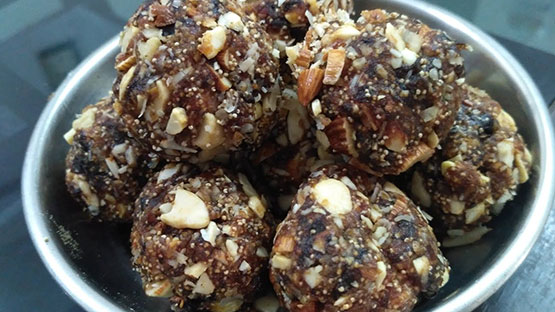 Khajoor ke Falahari Laddoo

Scrumptious Khajoor ke Laddoo is a luscious exotic dish relished as breakfast. Made from the deseeded dates roasted in Desi Ghee (clarified butter) added with Ghee roasted roughly cut almonds, cashews, walnuts, pistachios, poppy seeds etc. flavoured with nutmeg powder andground green cardamom, made this mixture into a dough, bound its portions into round shaped Laddoos and stored in a refrigerator. Served with a hot glass of milk, this rare delicacy will surely enhance the festivity of Ram Navami.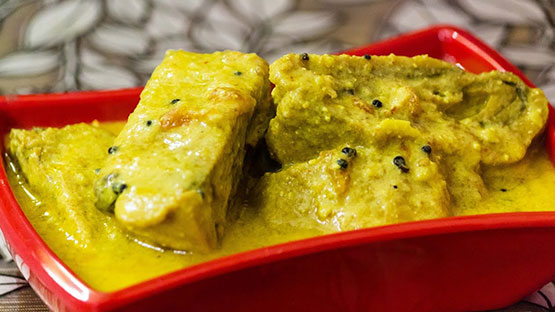 Arbi Ki Kadhi

Arbi ki Kadhi is a delectable tangy dish relished as main course. It is prepared from boiled and mashed Arbi (Colocasia or Taro Root) fried in oil with tempering items, like- mustard seeds, cumin seeds, asafetida, fenugreek seeds, broken red chili pieces, cinnamon, crushed black cardamom, slit green chilies, Kasoori Methi (dried fenugreek leaves), seasoned with regular spices, added with yogurt and simmered till it gets a thicker consistency. Served hot with Rotis or Puris made from amaranth, buckwheat or water caltrop flour, this amazingly delicious Kadhi will sooth your palate with its tangy flavor during fasting on Ram Navami.
These are some of the sweet and spicy dishes for Ram Navami festival that can be easily prepared at home and are also abundantly available at the nearby street vendors or eateries. If you wish to know more about such delicacies and locate your nearby joints, download the

App right away!

Back