Rejoice Rejuvenating Regional Beverages This Summer
May 10, 2019
With onset of month of May, the mercury continues to soar high and hot winds and bright sun dominate the climate across Indian subcontinent. In this hot summer month, traditional Indian drinks are preferred over bottled and carbonated drinks, as these drinks help boost up the energy and improve our immune system as also keep us aptly hydrated.

Different regions of India offer a plethora of cold beverages made from the fruits and veggies grown locally and are not only tasty and healthy, but also refreshing and rich in nutrients and energy. As the saying goes- old is gold, we never lose the charm of our traditional drinks as these are made from experience gained by our ancestors through centuries, never become old and always remain in style.

In this blog

makes you to savour select regional cold beverages that will keep you healthy, refreshed and cool in this peak summer month and easy to make at home.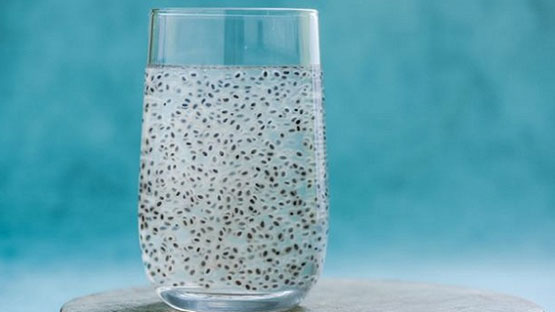 Tukh Malanga Drink

Super summer savior- Tukh Malanga Drink is a delicious sweet and sour cold beverage. Made with sugar syrup stirred in warm water, added with chia seeds and refrigerated till the seeds swell in the size, added with lemon juice, flavoured with rose water and served chilled by adding crushed ice, will not only tickle your taste buds, but also keep you healthy and refreshed during this hot summer month.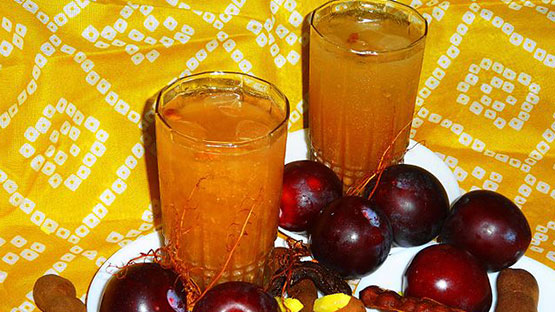 Imli aur Alu Bukhara Sherbet

Delectable Imli aur Alu Bukhara Sherbet is a sweet and sour cold beverage. This unique cold drink is made from deseeded pulp of overnight water soaked Imli (tamarind) and Alu Bukhara (plum), strained and cooked with water and sugar, blended together in a blender with black salt and ice. Served chilled by garnishing with basil seeds (Tukh Malanga), this healthy and refreshing sherbet is highly tempting to try and keep you cool and refreshed during this hot weather.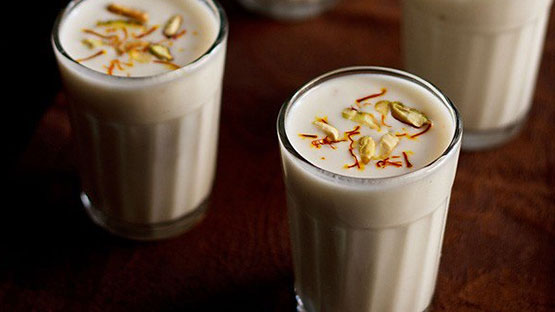 Piyush

Scrumptious Piyush is a thick and creamy luscious cold drink for summers from Gujarat and Maharashtra and liked by the people of all age groups. This rare cold drink is prepared by whisking together Shreekhand (yogurt based dessert), yogurt, milk, sugar, nutmeg powder, green cardamom powder etc. and refrigerated. Served chilled in glasses garnished with pistachio, sliced almonds and saffron strands will surely tickle your taste buds and keep you cool in this scorching summer.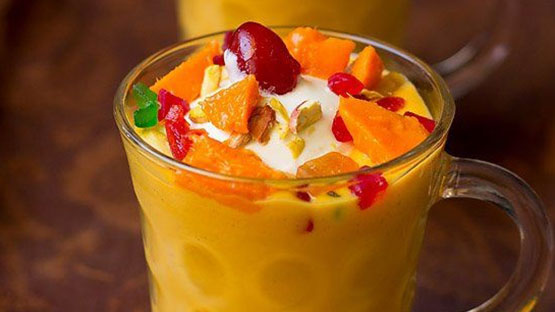 Mango Mastani

Mango Mastani is a unique luscious dessert cold drink from Pune. Name of the drink seems inspired from the Mastani, wife of Peshwa Bajirao. This classic drink is made from the peeled ripe mangoes blended in a blender along with sugar and full cream milk to make a mango milk shake, poured in glasses, topped with a scoop of vanilla or mango ice cream, sliced dry-fruits, like- pistachio, almonds, cashews etc. Served chilled by garnishing of glazed cherries, this amazing drink keeps the heat of summers at bay.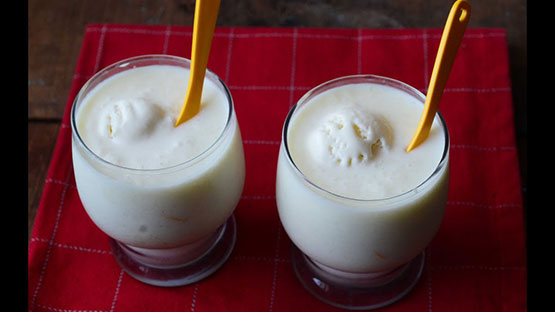 Jil Jil Jigarthanda

Delectable Jil Jil Jigarthanda is a luscious cooling drink originated in Madurai in Tamil Nadu state and perfect for hot summer days to keep your heart cool. This phenomenal drink is made from the refrigerated sweetened reduced milk, added with overnight water soaked Badam Pisin (almond gum), little Nannari syrup (made from fragrant Anantmool root) and topped with a scoop of special Jigarthanda (made from reduced full cream milk)/Vanilla ice cream. Served chilled, this classic coolant will save you from heat strokes during terribly hot summer.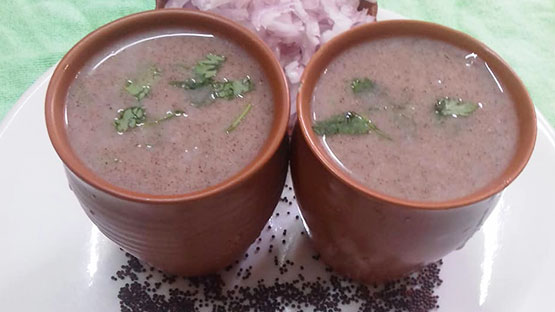 Ragi Ambali

Deliciious Ragi Ambali (Ragi Malt) is a healthy tangy drink from Karnataka to cool down and hydrate the body. This nutritious and gluten free drink rich in calcium, iron and vitamins, carbohydrate, fiber etc. is made by adding paste of Ragi (finger millet/red millet) flour to rolling boil water, cooled down and poured into butter milk and whisked thoroughly, added with salt, roasted cumin seeds, asafetida (Heeng), curry leaves, finely cut onions etc. Served chilled by garnishing with green coriander leaves, it is enticingly flavoursome to sip during hot summer days.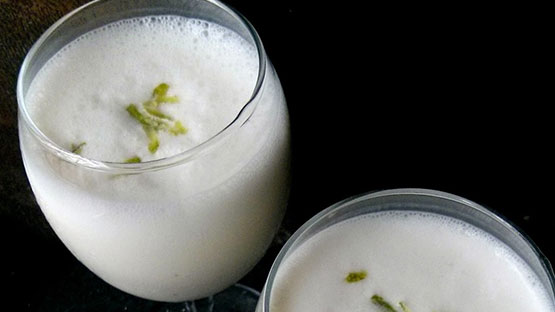 Gondhoraj Ghol

Delectable GondhorajGhol(King lime buttermilk) is a sweet, sour and cold beverage from West Bengaland an ideal drink for summers owing to its cooling properties. This wonderful drink is made by churning yogurt, sugar, rock salt (Sendha Namak), water, Gondhoraj zest till Ghol (solution) turns frothy. Served chilled by adding juice of Gondhoraj Lebu ((highly fragrant lime from West Bengal)) and garnished with wedges of Gondhoraj lime, this unique drink will keep you aptly hydrated during hot summers.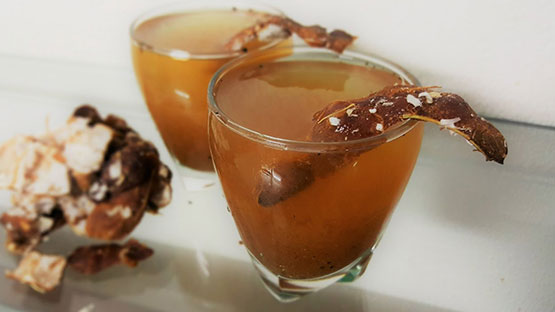 Imli ka Amlana

Imli ka Amlana is an amazing sweet, sour and spicy cold drink from Marwar region of Rajasthan. Made by blending deseeded tamarind (Imli) and water, straining the mixture, added with black salt, powdered sugar/jaggery, ground black pepper, green cardamom powder etc. and served chilled garnished with mint leaves, this healthy drink will not only sooth your palate, but also save you from the heat stroke during scorching summers.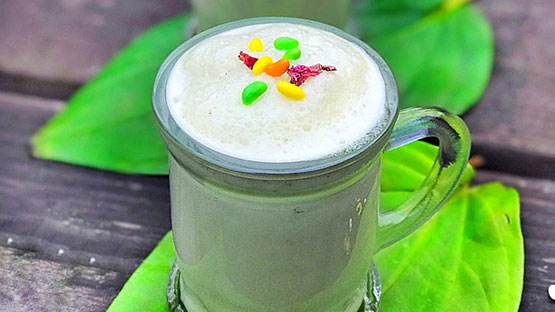 Paan Gulkand Drink

Paan Gulkand Drink is a luscious cooling and refreshing cold beverage from Punjab to cool you off during hot summers. It is prepared by blending together in a mixer betel leaves (cut off of stalk), fennel seeds, milk, Gulkand (sweet preserve of rose petals) paste, sugar, ice cubes, water soaked Sabja (basil) seeds, rose syrup etc. till the mixture is smooth. Served chilled by garnishing with dry fruits, like- sliced almonds, broken cashews, pistachios etc., this wondrous cold drink is irresistible to try for its ethereal sweet flavour and hint of multiple flours of betel leaves- sweet, bitter, astringent, lemony, minty etc.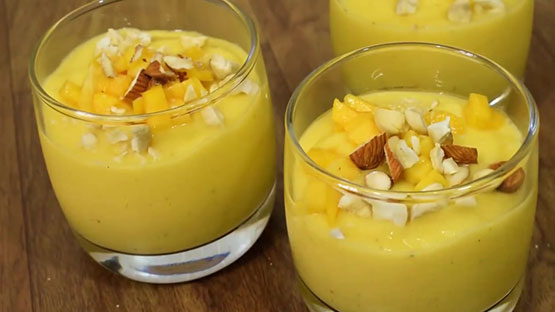 Mango Lassi

Mango Lassi is a delectable sweet and sour yogurt based mango milkshake. This thick and smooth beverage is prepared by blending in a blender freshly cut ripe mango pieces, chilled yogurt, milk cream, milk, sugar/honey, green cardamom powder, saffron strands etc. Served chilled by garnishing of mint leaves and mango cubes, this phenomenal cold beverage will not only make your lips to smack, but also provide you with apt safety from heat stroke in summers.
These are some of the delicious regional cold drinks that can be easily prepared at home and are also abundantly available at the nearby street vendors or eateries. If you wish to know more about such delicacies and locate your nearby joints, download the

App right away!

Back