Have the Best Foods in Hyderabad
August 03, 2019
The historic city of Hyderabad is the capital of Indian state of Telangana and de jure (legal) capital of Andhra Pradesh. Originally known as Bagnagar (city of gardens), this more than three centuries old city is situated along the bank of Musa river. Famous as the twin cities of Hyderabad and Secunderabad, Hyderabad denotes the meaning as- 'Haydar's city' or 'lion city', wherein Haydar means a 'lion' and Abad means 'city'. This glorious city is famous for its mesmerizing monuments, like- Charminar, Birla Temple on Naubat Parvat, Mecca Masjid, Salar Jung Museum, Nizam's Museum, Qutb Shahi tombs, Falaknuma Palace and remains of old Golkonda Fort built in 16th century wherein Golkonda means 'shepherd's hill'.

Also known as city of gardens and lakes it has enchanting water bodies, like- Hussain Sagar, Osman Sagar, Himayat Sagar etc. This majestic city is also known as the 'Pearl City' and is famous for its delicious foods that represent its rich heritage, traditions and culture.

In this blog

endeavours to bring forth select top foods of Hyderabad which will surely tantalize your tastes buds and easy to prepare at home.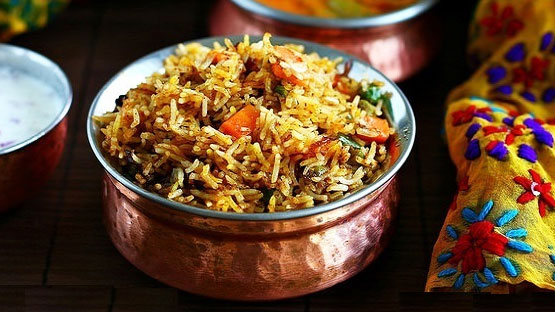 Bawarchi Restaurant ki Vegetarian Dum Biryani

Scrumptious Vegetarian Dum Biryani is a spicy rice dish from Nizams of Hyderabad, synonymous with city of Hyderabad and relished as a main course. It is prepared from water soaked aromatic Basmati rice parboiled in water with salt, bay leaves, green and black cardamom etc., added in layers with vegetable Biryani gravy made by sautéing in clarified butter finely cut onions, green chilies, ginger-garlic paste, caraway seeds, cinnamon, added with diced seasonal veggies, like- diced cauliflower, carrot, green bell peppers, green peas, button mushrooms etc. seasoned with regular spices, added with whisked yogurt, cashews, almonds, raisins, mace, saffron mixed milk etc. and cooked in an earthen pot (Handi) sealed with aluminum foil/wheat flour dough. Served hot with tangy yogurt Raita, mango pickle, roasted Papad, onion salad etc. this aromatic and spicy dish will surely tickle your taste buds. Best joint to offer this dish is the Bawarchi Restaurant located in Nallakunta area.
Flechazo ka Double ka Meetha

Delectable Double ka Meetha is a luscious delicacy relished as a dessert during festive occasions, weddings and parties. Flechazo located in Madhapur area is famous to serve the best Double ka Meetha in Hyderabad. This unique dish is made from the white bread (locally called as Double Roti, hence, gets the name- Double ka Meetha), cleared with the brown borders, cut into desired sizes, deep-fried in clarified butter (pure Desi Ghee), dipped in the sugar syrup flavoured with saffron and green cardamom powder and topped with chilled Rabrei (condensed sweetened milk with a thicker consistency). Served instantly by garnishing with Ghee roasted cashews, almonds and pistachio flakes, this heavenly dish will surely satisfy your sweet tooth.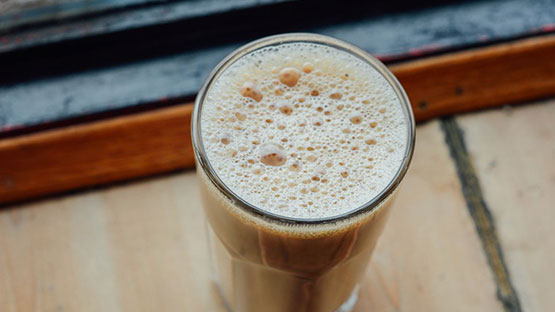 Nimrah Cafe & Bakery ki Irani Chai

Irani Chai (tea) is a hot beverage relished to refresh and rejuvenate energy during different hours of the day. This signature Hyderabad tea is highly famous in the after Biryani. Nimrah Cafe & Bakery, located beside Mecca Masjit opposite iconic Char Minar in the old city is known to serve the best Irani Chai in the Hyderabad. This classic Persian tea is made by brewing cured tea leaves boiled for long hours, sweetened with sugar, added with highly creamy milk. Served steaming hot with famous Osmnia biscuits, this unique tea is sure to refresh you with its strong bitter and creamy flavours.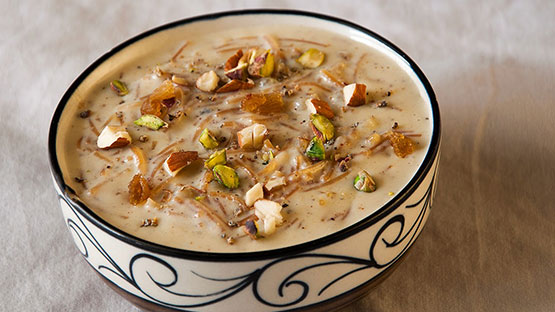 Amma Vanta ka Sheer Korma

Mouthwatering Sheer Korma/Khurma is a vermicelli based Mughalai pudding relished as breakfast on festive occasions or as a dessert. This exotic Persian dish is prepared by deep-frying vermicelli in clarified butter, added with milk, flavoured with green cardamom powder, saffron, cloves and rose water, sweetened with sugar and dates and boiled till it attains a thicker consistency. Served hot by garnishing with diced Ghee roasted almonds, cashews, pistachios, raisin etc., this amazing dish will surely make you to drool. Amma Vanta located in Manikonda area is famous to serve the best Sheer Korma in the Pearl City of Hyderabad. While on the matter, let us tell you that 'Sheer' is distorted form of 'Ksheer' meaning milk and 'Khurma/Korma' means dates in Persian language.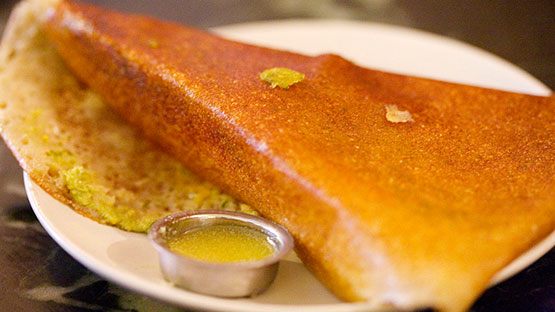 Ram Ki Bandi ka Dosa

Scrumptious Dosa is a spicy crepe, a staple food in South India and relished as breakfast or main course. The delicacy is prepared from the fermented batter of overnight water soaked black gram and rice spread on a griddle in a circular shape, cooked on both the side adding oil/clarified butter or butter till it turns crisp and golden brown and wrapped with sautéed spicy Masala of boiled and mashed potatoes. Served hot with spicy Sambar (spicy and tangy stew of pigeon peas) and savoury coconut chutney. Ram ki Bandi located opposite Karachi Bakery in Mozamjahi Market in the Nampally area is famous to serve a variety of Dosa, like- Pizza Dosa, Butter Masala Dosa etc. The join is so famous for Dosa and other breakfast dishes, that the stocks get exhausted within a few hours of preparing.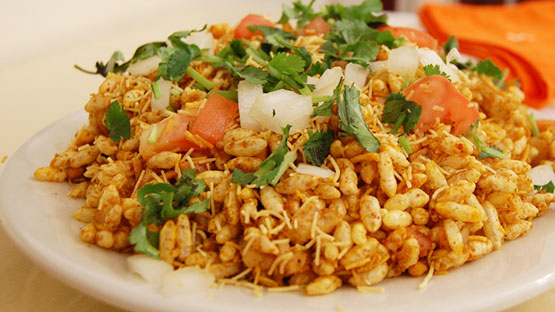 Gokul Chaat ki Hyderabadi Chaat

Delectable Chaat is a spicy dish relished as a snack. Nearly five decades old Gokul Chaat located at Koti Main Road, Opp Koti Women's College in the Koti area is popular to serve the best Chaats in Hyderabad. This lip smacking Chaat is prepared from the roasted puffed rice, added with diced onions, tomatoes, Namkin Sev etc., sprinkled with Chaat Masala and served instantly by garnishing with finely cut green coriander leaves to sooth your palate with its spicy flavour. The joint is famous to serve a variety of delicious Chaats, like- Samosa Ragda, Cutlet Ragda and Dahi Vada etc.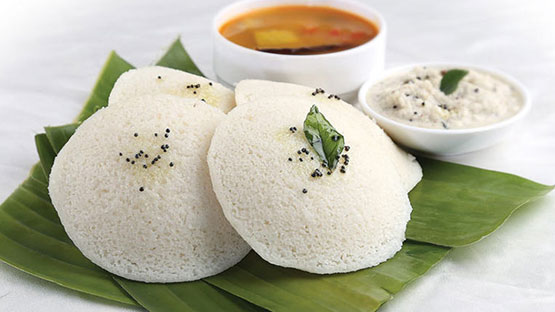 Laxman ki Bandi ki Idli

Flavoursome Idli/Idly is a savoury delicacy relished as breakfast or main course. Laxman ki Bandi located near Mangalhat Road, Gyan Bagh Colony, Begum Bazaar in the Nampalli area. These soft and fluffy Idlis are made from overnight water soaked black gram and rice fermented batter added with fenugreek seeds and salt, steamed cooked in a pressure cooker and served hot topped with a dollop of butter along with savoury green coconut chutney and tangy Sambar. The joint is also famous to serve a variety of Dosas, especially, paper Dosa, Upma etc.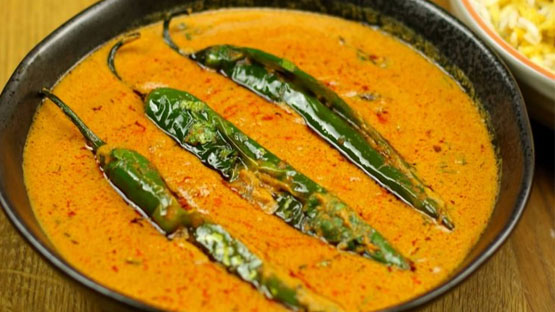 Bawarchi ka Mirchi ka Salan

Mirchi ka Salan is a unique spicy and tangy traditional staple curry served as a side dish with main course during weddings and festive occasions. This rare dish is made by sautéing diced onion, ginger-garlic paste, mustard seeds, cumin seeds, nigella seeds, sesame seeds, roasted peanuts etc. seasoned with salt and regular spices, added with tamarind paste and fried green chilies slit in the center and cooked in a gravy of thicker consistency. Served hot with Hyderabadi veg Biryani, steamed rice and Rotis (flat Indian breads), this lightly spicy curry is irresistible to try for its spicy and tangy flavours. Bawarchi Restaurant located in Nallakunta area is famous to serve the best Mirchi ka Salan.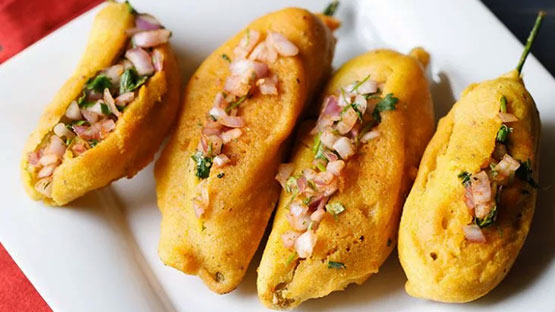 Lamakaan ki Mirchi Bajji

Mouthwatering Mirchi Bajji also known as Mirapakaya Bajji is a spicy and tangy dish relished as teatime snack. This crisp and crunchy Bajji is quite different from North and Western Indian Mirchi Pakauda or Mirchi Vada for its stuffing techniques. It is prepared from long green chilies cut in the center, stuffed with mix of cumin seeds, salt and lemon juice, dipped in spicy gram flour batter seasoned with salt, asafetida (Heeng) and regular spices and deep-fried in oil till turn golden brown and crisp. These extra spicy Bajji are served instantly by cutting in center and stuffing with finely cut onions seasoned with spices. Lamakaan located in Banjara Hills is quite popular to serve the best Mirchi Bajji in the capital city of Hyderabad.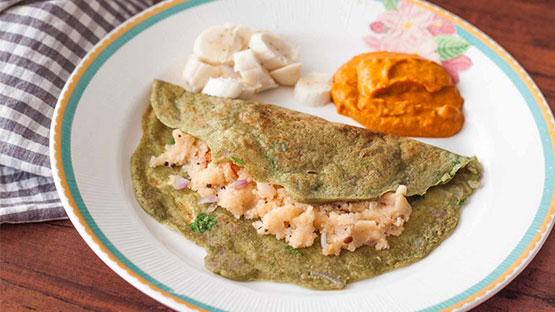 Mathura Vilas ka Pesarattu

Delectable Pesarattu is a spicy pancake- basically a Dosa, relished as breakfast or main course. This wholesome dish is made from the batter of overnight water soaked whole green gram (Moong Dal) added with ginger, finely cut green chilies seasoned with salt and cooked on a griddle in round shape from both the sides till done and added with diced onions in center when the upper side is being cooked. Served hot by stuffing with Upma (a savoury crepe made from semolina) in the center of Pesarattu, topped with Allam Pachadi ( a dip made from ginger, jaggery, tamarind, Chana Dal etc.). Best joint to try this finger licking dish is the Mathura Vilas located in Gachibowli, a suburban area of Hyderabad situated in the neighboring Ranga Reddy district.
These are some of the best foods in Hyderabad that can be easily prepared at home and are also abundantly available at the nearby street vendors or eateries. Should you know more about such delicacies and locate your nearby joints, download the

app right away!

Back