Finger Licking Best Foods of Lucknow
February 07, 2020
Lucknow is an ancient city and capital of Uttar Pradesh state in India. Foundation of this legendary city is said to be laid down by Lakshmana of great Indian epic Ramayan and younger brother of Lord Rama. Initially it was called as Lakshmanpuri, later was known as Lakshmanvati, got changed to Lakhanvati, subsequently as Lakhnauti and finally transformed to Lakhnau which was anglicized to Lucknow during British rule in India. According to yet another assumption, the city gets its name after reigning Goddess of wealth- Lakshmi which got deformed to Lakshnau and ultimately as Lakhnau.

Known as cultural and artistic center of North India, this multicultural city remained capital of the Awadh area controlled by Delhi Sultanate, afterwards by Mughals and finally ruled by Nawabs of Awadh. This eloquent city developed a novel legacy called Ganga-Jamuma Tehzeeb- synchronization of Hindu-Muslim cultures. Historical Lucknow forms Uttar Pradesh Heritage Arc along with legendary Varanasi and Agra. Popularly famous as city of Nawabs, it has exquisite architectural marvels, like- Bada Imambara, Chhota Imambara, Bhul Bhulaiya (maze) within premises of Bada Imambara, Rumi Darwaza- entrance gate to old city of Lucknow, Chhattar Manzil- Residence of Nawabs, Constantina House, British Residency, Begum Hazrat Mahal Park etc.

Lucknow is known for its mouthwatering foods, developed under patronage of the Nawabs of Awadh that denote culture, heritage and traditions of the city. In this blog

brings forth finger licking dishes of Lucknow which can also be made at home easily.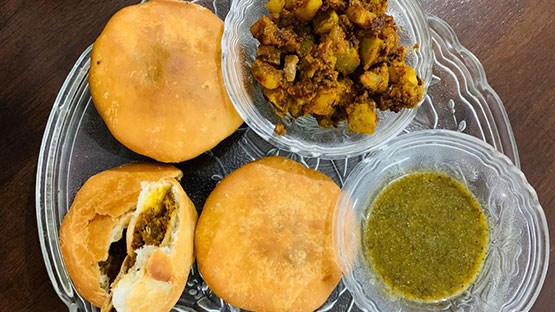 Ratti Lal ki Khasta Kachori

Khasta Kachori, a spicy dish is very popular in Lucknow and relished as breakfast. These delectable Khasta Kachoris are made by deep frying Puris made from fine flour stuffed with spicy sautéed Moon Dal (green gram) seasoned with an array of spices, till turn crisp and puffed. Served hot with spicy potato and green peas curry, the dish is irresistible to try for its spicy flavour. Ratti Lal located at Sania Market on Ratti Lal crossing on Shivaji Marg in Aminabad area is very famous to serve the best Khasta Kachoris in Lucknow.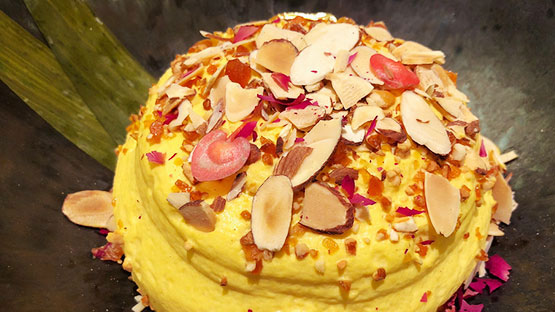 Chowk ki Makhan Malai

Creamy, cloudy and soft Nawabi Makhan Malai also called as Nimish, Daulat ki Chaat or Lab-e-Mashook is a luscious delicacy originated in Mathura and relished as a dessert during winters. This melt in mouth exotic dish is prepared following a cumbersome procedure with great care and serenity using Malai (milk cream) of overnight boiled milk, churned with indigenous blender (Mathni), turned into butter, added with sugar, green cardamom powder, yellow food colour/saffron and exposed to early morning dew. Served chilled this amazing dish will sooth your palate with its heavenly flovour. The best Makhan Malai is available at iconic Old Darwaza during winters.
Moti Mahal ki Imarti Rabdi

Delectable Imarti Rabdi is a luscious combo relished as a dessert and quite a famous dish in Lucknow. In general people relish Doodh-Jalebi, occasionally in Bikaner, Rajasthan go for Dahi-Jalebi, but in Lucknow this unique combo is relished with Imarti. Delicious Imarti invented during reign of emperor Jehangir, made by deep-frying fermented batter of black gram in circular rose shapes, chockablock with cardamom flavoured sugar syrup and served hot with hot/cold luscious Rabri made by reducing full cream milk, laden with thick cream scratched from the sides of skillet will surely make you crazy to try this time and again. Moti Mahal located next to Central Bank of India on Mahatma Gandhi Marg in Hazratganj area of this Nawabi city is famous to serve the best combo of Imarti and Rabri.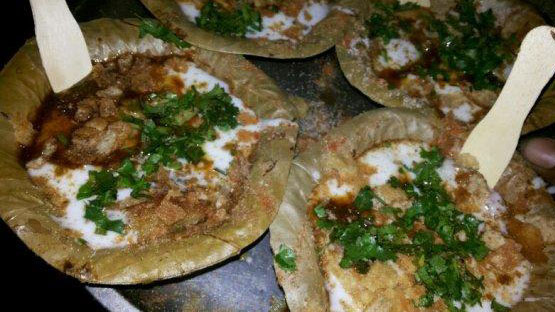 Shukla Chat House ki Matar ki Chaat

A unique signature- Matar ki Chaat, locally called as Matara is a spicy and tangy dish of Lucknow, being origin of all types of Chaat. This exotic delicacy is made from boiled and mashed white peas, seasoned with a variety of spices, shaped into patties (Tikki) and shallow fried in a pan till turn crisp. Served hot by garnishing with ginger silvers (Saunth), topped with green coriander chutney and yogurt, sprinkled with Chaat Masala, rock salt, dash of lemon and roasted cumin seeds is a great delight to try with a cup of piping hot tea served in Kulhads (earthen mugs). One of the oldest joint of Chaat, nearly five decades old Shukla Chaat House popular as the 'King of Chaat' located near Church building on Shahnajaf Road in Hazratganj area is very famous to serve the best Matar Chaat in Lucknow.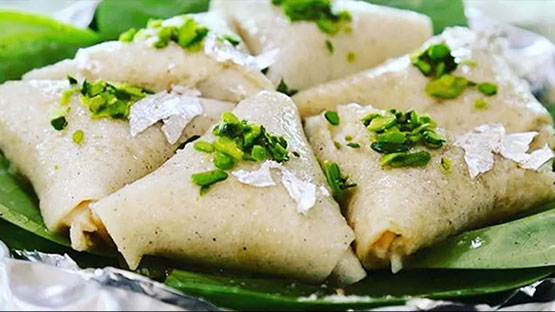 Ram Asrey Ka Malai Paan

Scrumptious Malai Paan aslo locally called as Balai ki Gilori is again a luscious delicacy from the city of Nawabs. This unique mouth freshener was invented during 18th century when Nawabs banned Paan (betel) in Lucknow. This amazingly delicious sweet delicacy is made with strenuous efforts from the paper thin scrap of condensed milk (Khurchan) loaded with Mishri (crystallized sugar), dry-fruits, like- diced almonds, cashew, raisin, pistachio, little salt etc., rolled into a triangular shape, sealed with a clove, sprinkled with rose water and saffron strands. Served cold, this delicious Paan will freshen you up with its heavenly sweet and salty flavours after relishing sumptuous meals. Decades old Ram Asrey located near Leela Theater on Nawal Kishore Road in Hazratganj area is famous to serve the best Malai Paan in Lucknow.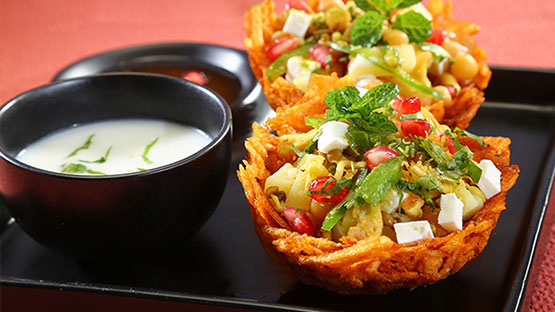 Royal Cafe ki Tokri Chaat

Lucknow is famous for its non-veg Awadhhi dishes, but it is equally famous for its veg delicacies too. One among various Chaats served in the city of Nawabs is the Tokri (Basket) Chaat is a spicy, sour and tangy dish relished as a snack. This unique Chaat is very popular in Lucknow and made by stuffing diced boiled potatoes, added with boiled chickpeas, yogurt, spiced with salt, red chili powder, Chaat Masala, cumin powder, green and red tamrind chutneys in layers in a basket (made by deep-frying grated potatoes with the help of a strainer), topped with Namkeen Sev and pomgranate and served instantly. Royal Café located at Mahatma Gandhi Road, opposite South Cinema Hall is famous to serve the bestTokri Chaat in Lucknow.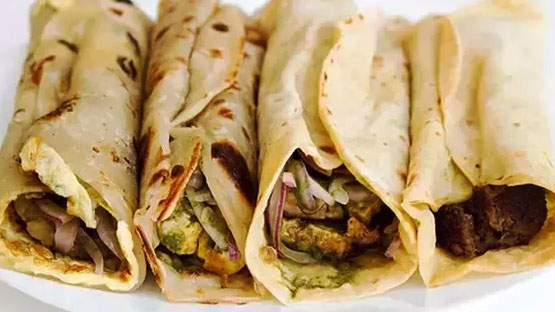 Deva Food Mart ka Veg Kebab Paratha

Delectable Veg Kebab Paratha also called as Veg Kebab Roll is a spicy dish relished as breakfast or a snack and highly sought after dish in Lucknow that tastes as awesome as its non-veg versionTunday Kebabs. This unique dish certified by Red FM as the best Veg Kebab Paratha is made from the patties of overnight water soaked Bengal gram grinded in a grinder, shallow/deep-fried along with ginger, garlic, green chilies etc., seasoned with salt, Garam Masala powder and wrapped around a Paratha spread with green mint and green chili chutneys. Served hot by sprinkling with Buknu (assortment of spices originated in Kanpur) on Kebab along with shreds of onions, amply covered with spicy mint and green chili chutneys is sure to tantalize your palate. More than two decades old Deva Food Mart located at Aarif Chamber- 1, Kapoortathala in Aliganj area is the most authentic joint to serve the best Veg Kebab Paratha in Lucknow.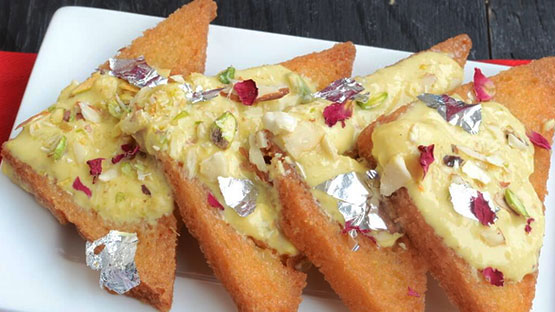 Alamgir Hotel ka Shahi Tukda

Scrumptious Shahi Tukda is a luscious Awadhhi delicacy relished as a dessert and very famous in Lucnow. This highly delicious sweet dish is made with great Nazakat (delicate) and Nafasat (sophistication) by shallow frying bread slices in clarified butter, dipped in sugar syrup flavoured with ground cardamom and rose water, thickly coated with chilled saffron flavoured Rabri (condensed milk with semi-liquid consistency) and garnished with sliced almonds, pistachio, cashews etc. Served as a dessert on festive occasions, the dish is irresistible to try for its royal flavor and surely make you to drool. Alamgir Hotel located at Khayali Ganj, Aminabad is very famous to serve the best Shahi Tukda in the city of Nawabs.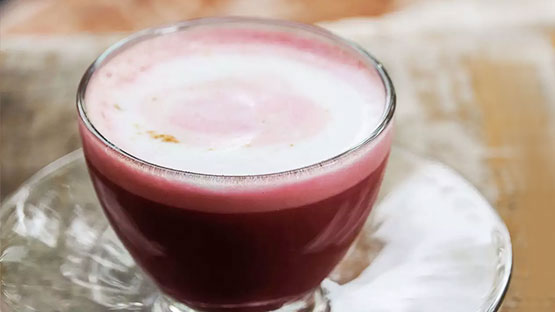 Nakhas Market ki Gulabi Chai

Highly delectable Gulabi Chai (Pink Tea) also called as Sheer Chai or Kashmiri Noon Chai is a peerless salty hot beverage devoured by Lucknowis during the month of Ramadaan and holy festival of Eid and gives a feeling of Kashmir in Lucknow. Introduced by Kashmiris to Lucknow, this unique tea is prepared following an extensive method in a copper kettle called as Samovar with a round chimney heated with coa, by brewing cured green tea leaves for more than an hour along with baking soda, added with salt, milk, crushed almonds etc., flavoured with saffron strands and ground green cardamom. Served piping hot with Imarati, Taftan Samosa, etc. this amazingly flavoursome tea will refresh you in chilling winters.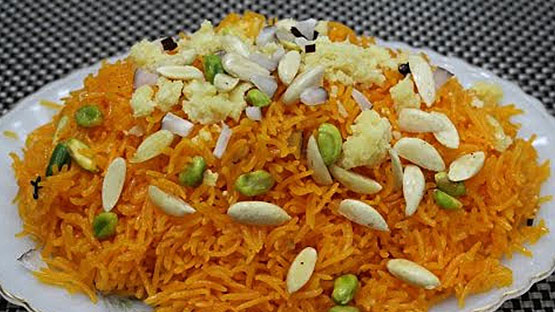 Idris Biryani ka Zarda

Luscious Zarda is a regal Mughlai dish that once remained a favorite dish of the Mughal emperor Shahjahan and relished by locals during the holy month of Ramadaan and Eid festival. The term Zarda finds its roots in the Persian language meaning golden or yellow. This exotic Awadhi delicacy is prepared by steaming fine class of rice along with milk, an array of food colours and sweetened with sugar, added with condensed milk (Mawa,) diced cashews, almonds, raisins, pistachios etc. and flavoured with saffron and green cardamom powder. Served hot, this royal dish will surely make you to drool. Idris Biryani located opposite Pata Nala Police Station on Nakkhas Road is a famous joint to serve the best Zarda in Lucknow.
These are some of the best foods in Lucknow that can be easily prepared at home and are also abundantly available at the nearby street vendors or eateries. Should you know more about such delicacies and locate your nearby joints, download the

app right away!

Back