Dynamic Dinner Dishes for Hot Summers
June 15, 2019
The summer season is currently passing through its peak phase. People are facing high scorching heat, humidity, heat strokes and keep sweltering all the time. Although we try to keep ourselves cool and hydrated by consuming a lot of cold water, fruit juices, yogurt based beverages etc., yet the dinner is a vital food of the day to keep us aptly energized.

In a bid to maintain the energy level of our body during this hot and sultry season, we need to feed ourselves with protein and fiber rich dishes which are light on stomach and easy to digest and try to avoid spicy and fatty foods that might cause acidity and other health hazards.It is pertinent to have our dinner at least two to three hours before going to bed, so that it gets more time to digest.

In this blog

puts in the efforts to bring forth select dishes for dinner which are comparatively less spicy, easy to digest and prepare at home and keep your body system cool.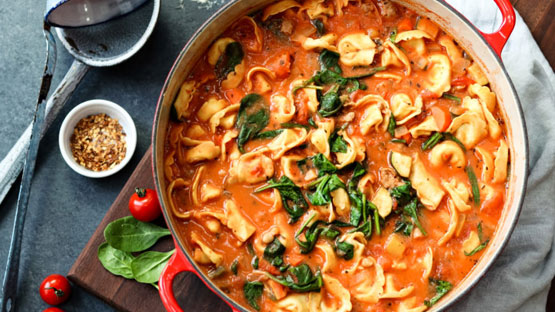 Tuscan Tortellini Skillet

Tuscan Tortellini Skillet is a mild spicy and savoury dish relished as a main course at dinner. Thischewy, cheesy and tender delicacy is prepared by stir-frying in olive oil with diced plum tomatoes, seasoned with salt, blackpepper, red paper flakes etc. added with cheese tortellini till tortellini turns tender and plump, removed from the heat and further added with finely cut baby spinach. Served hot with garnishing of grated parmesan cheese, this delicious dish makes a perfect dinner for hot summers.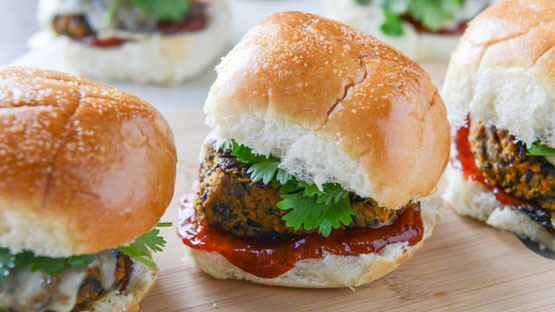 Black Bean Burgers with Chipotle Ketchup

Black Beans Burgers with Chipotle Ketchup is a spicy vegetarian dish relished as a light dinner delicacy. It is made by placing between split and toasted hamburger rolls a crisp and cooked patty made from overnight water soaked black beans added with bread crumbs, finely cut onions, green coriander leaves, ground cumin seeds, canola mayonnaise sauce etc. Served with chipotle ketchup made by combining tomato sauce, lime juice, red chili powder etc. this flavurome dish is sure to make your lips smack.
Mixed Kathol

Delicious Mixed Kathol is a spice, sweet and sour dish from Gujarat and an amazing combination of lentils and legumes. This exotic dish is made from the overnight water soaked whole Bengal gram, whole green gram, cow peas (Lobia), moath beans, dried green peas etc. pressure cooked and fried in oil with cumin seeds, mustard seeds, asafetida (Heeng), round red chilies, ginger-green chilies paste etc., seasoned with salt, red chili powder, turmeric powder, added with tamarind pulp, jaggery, chickpea powder (Besan) and allowed to simmer. Served hot, the dish pairs well with Roti and steamed rice and makes an ideal dish for dinner during summer season.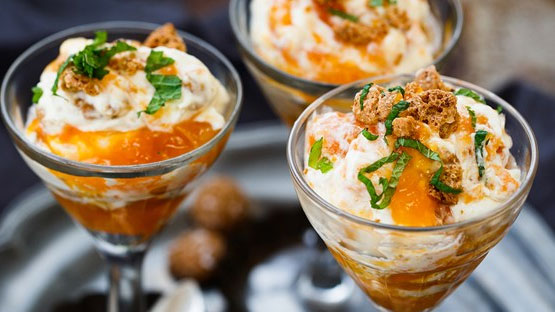 Apricot Fool

Apricot Fool is a luscious dish from Italy and is relished as a light meal at dinner. This delightful dish is prepared by cooking halved and smashed ripe apricots, orange juice, caster sugar, cinnamon sticks etc. till the apricots turn soft and cooled.Cinnamon sticks are removed later on. The cooled apricots are added to Greek yogurt stirred with lemon zest and topped with orange juice. Served chilled with crisp cookies, this heavenly dish is irresistible to try for its sweet and juicy flavours.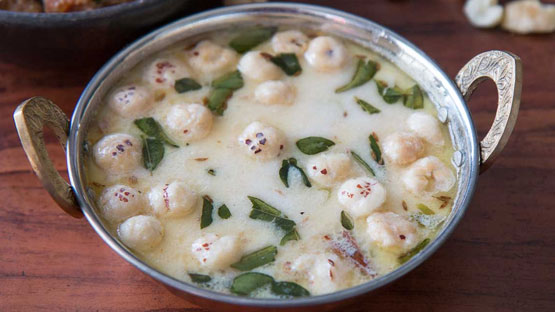 Makhanewali Kadhi

Delicious MakhanewaliKadhi is a spicy, sour and sweet curry from Gujarat relished as main course during lunch or dinner. This exotic curry is prepared from the blended mixture of water chestnut flour, yogurt and fried and sautéed in Ghee (clarified butter) along cumin seeds, finely cut green chilies, curry leaves, cloves, saltetc., added with lotus seeds (Makhane) deep fried in clarified butter and simmered till it attains a relatively thicker consistency. Served hot, this delectable curry can be consumed during fasting days and pairs well with Rotis and steamed rice.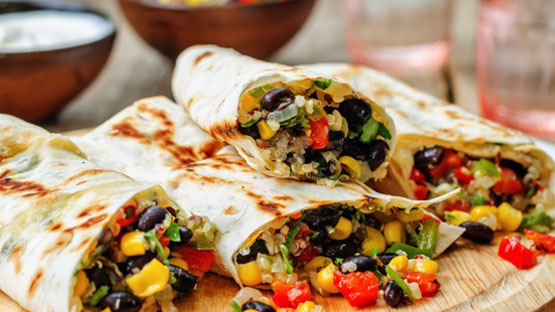 Vegetarian Bean Burritos

Scrumptious Vegetarian Bean Burrito is a spicy Mexican delicacy relished as a light dinner. This super healthy, filling and heartening dish is prepared from the tortilla made from dough of wheat flour wrapped around filling of the mixture of half of the salsa, beans, green onion mixture as well as half of the brown rice, avocado, corn, lettuce, tomato, and bell pepper etc. seasoned with salt, pepperand cayenne (very hot and finely tapering long red peppers), rolled into burrito tightly closed from all side, placed in a pan with seam down and grilled on medium heat till it turns crisp and brown. Served hot along with salsa, soy yogurt, or guacamole(A thick paste of mashed avocado, often combined with citrus juice, onion, and seasonings), this delightful dish will surely sooth your palate.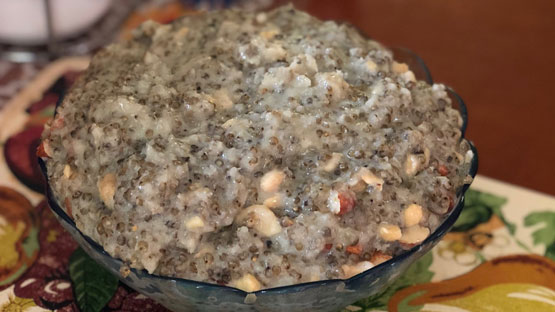 Dudhio Bajro

The wholesome Dudhio Bajro is a Parsi luscious dish from Gujarat relished as a dessert with main course of meal. This delicious dish is made from the overnight water soaked millet (Bajra) added to boiling milk and simmered till it gets a relatively thicker consistency, sweetened with granulated sugar, added with Ghee (clarified butter), scrapped coconut etc., flovoured with green cardamom powder, nutmeg powder and garnished with sunflower seeds (Chironji). Served hot, Dudhio Bajro is highly tempting to try for its divine sweet flavour.
Dudhi Halwa

Delicious Dudhi Halawa also known as Lauki ka Halwa is a luscious dish savoured as dessert with main course of meal. This super delicious dish is made from the peeled, deseeded and grated bottle gourd sautéed in clarified butter (Desi Ghee), added with milk, sweetened with sugar, simmered till it gets a thicker consistency, flavoured with ground cardamom and garnished with sliced cashew and almonds. Served hot with main course of meal, this amazing dish will make your lips to smack.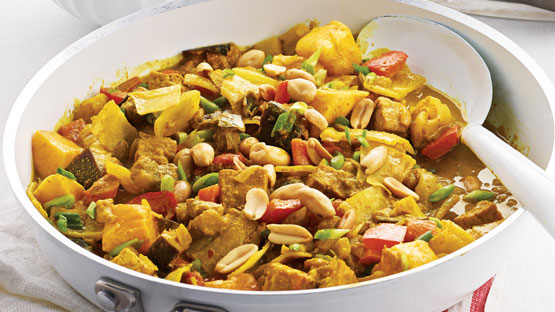 Peanut Curry

Mouthwatering Peanut Curry is a spicy vegetarian Indian dish relished as a main course. This magnificent curry is made from overnight water soaked pre-cooked peanuts added to fried and sautéed in oil cumin seeds, tomato puree, black pepper etc. seasoned with salt, turmeric powder, coriander powder, Pav Bhaji Masalal etc. added with little water and simmered till it turns into a thicker gravy. Served hot by garnishing of green coriander leaves, the dish is enticingly flavoursomre to try for its ultimate spicy flavours and pairs well with Rotis, steamed rice and Pav.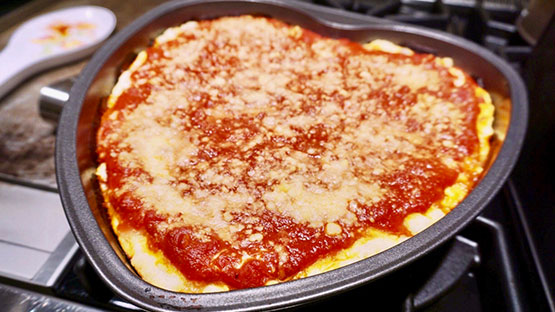 Deep Pan Pizza

Scrumptious Deep Pan Pizza is a spicy and saucy Italian delicacy that can be relished as a light dinner during summers. This exotic dish is prepared from the scratch crust with thick layer made from the round portion of dough of fine flour and semolina added with salt, garlic powder, pinch of sugar etc. layered with vegan mozzarella, pizza sauce, red bell pepper and sautéed spinach mixture, olives, pizza sauce, vegan mozzarella, some fresh basil,red pepper flakes and baked. Served hot with tomato sauce and red chili flakes, this amazing dish is irresistible to try for its spicy and saucy flavours.
These are some of the spicy and savoury summer dinner dishes that can be easily prepared at home and are also abundantly available at the nearby street vendors or eateries. If you wish to know more about such delicacies and locate your nearby joints, download the

App right away!

Back