Devour Desi Drinks to Beat the Heat
April 19, 2019
Summers have already set in and reaching its peak gradually. This is the time we need to take care of our body. Scorching heat absorbs our water level leaving us week. Heat stroke results in nausea and abdominal disturbances causing dehydration and week digestive system. Under these circumstances, it is imperative to keep ourselves aptly hydrated. India has a variety of plants in its different parts that help to prepare a variety of local coolants or cold beverages which not only maintain water level of our system, but also regulate our body temperature.

In view of scenario of heat waves all around,

puts in efforts to suggest an array of Desi (local) cold beverages to keep your body and mind cool in this scorching summer season.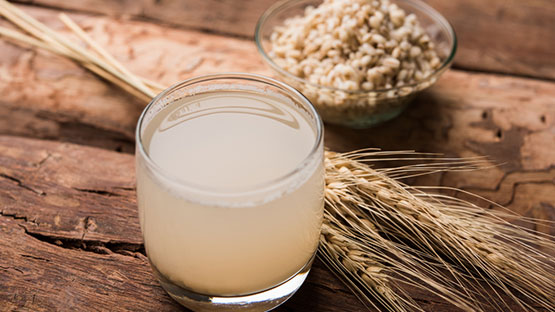 Barley Water

Full of nutrients, Barley water is a perfect cold beverage to beat the heat. This sweet and sour drink is made from barley soaked in water `for long hours and cooked in a pressure cooker with good quantity of water till barley grains turn mushy. Subsequently strained, added with rock sugar, pinch of black salt and lemon juice. Served chilled by adding ice cubes and garnished with lemon slice and mint leaves, this drink is capable to keep you properly hydrated during summers.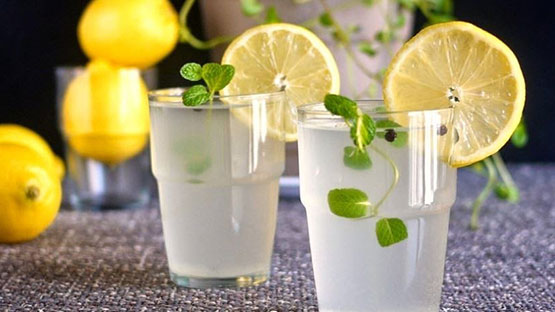 Nimbu Paani

Rich with Vitamin C, Nimbu Paani also called as Shikanji (Lemonade) is a sweet and tangy cold drink. It is the best thirst quencher during hot summers and easy to make at home within no time. Made by squeezing fresh lemon in chilled water, sweetened with sugar, seasoned with black salt, added with paste of mint leaves and roasted cumin seeds, served chilled by adding crushed ice and garnished with mint leaves and lemon slice, this amazing coolant will keep you energized and hydrated.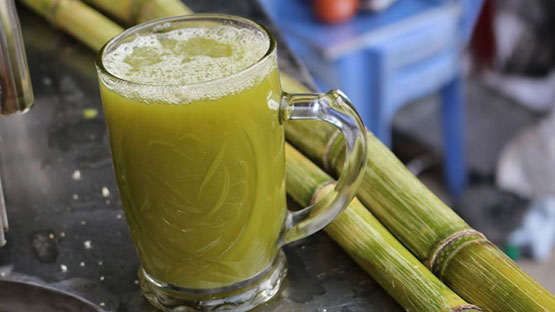 Sugarcane Juice

Healthy and delicious Sugarcane Juice is a luscious liquid and help control many a diseases of our body system. This elixir of life is obtained from sugarcane pressed in machine along with some mint leaves and ginger piece and its flavor is accentuated with a dash of lemon and black salt. Served chilled by topping with crushed ice, this healthy cold beverage will not only tickle your taste buds, but also help you save from the heat stroke.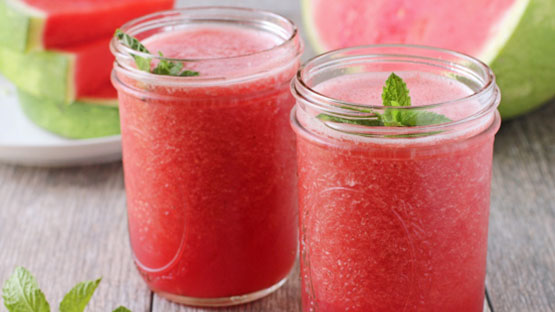 Watermelon juice

Rich with Vitamin A, E and many other nutrients, delectable Watermelon Juice is a perfect thirst quencher. Made from the pulp of deseeded watermelon, blended in a blender along with small piece of ginger, added with Sabjaseeds(sweet holy basil seeds), squeezed with lemon juice and served chilled by adding ice cubes, this amazing cold drink helps to save from sun stroke during scorching heat of summer.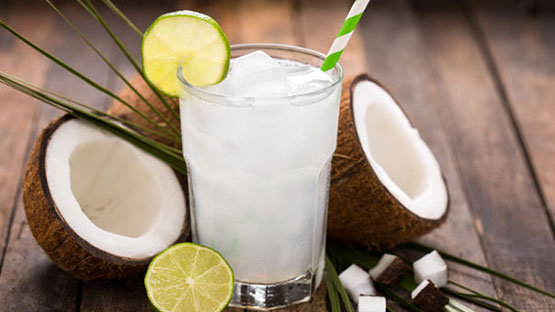 Coconut Water

Rich in sugar, electrolyte, vitamins, minerals etc. scrumptious Coconut Water is collection of liquid inside the cavity of young or tender coconut and a perfect beverage to keep hydrated during summers. Obtained by cutting outer layer of a green tender coconut at the top end with a sickle, breaking the hard inner shell exposing inner cavity holding coconut water and consumed using a straw or emptying in a bowl or bottle, this healthy and nutritious drink will keep you hydrated and quench your thirst throughout the summer season.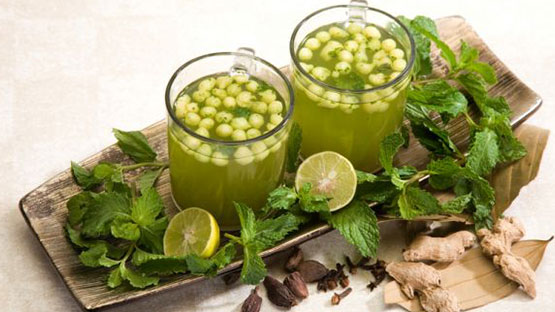 Jaljeera

Delectable thirst quencher Jaljeera is an authentic tangy Indian cold beverage from North India, a perfect summer drink and relished as an appetizer, during and after the meals. Prepared by blending together in a bender roasted cumin seeds, finely cut mint and coriander leaves, ginger, seedless tamarind added with black salt, normal salt, lemon juice and pinch of sugar, strained and served instantly will delight your taste buds and help to improve your digestion.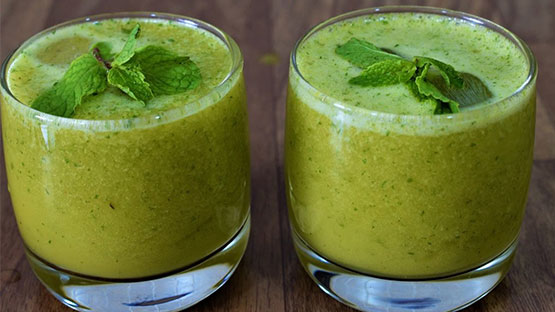 Aam ka Panna

Delicious Aam ka Panna is a famous tangy cold beverage from Noth India, but consumed across the nation. Known for its heat resistant property, this amazing drink rich with vitamins is made from the pulp of boiled and mashed raw mangoes, added with paste of mint leaves, salt, cumin seeds, little sugar/jiggery and served instantly will not only sooth your palate, but improve your immune system to combat with heat waves and treat your gastro-intestinal ailment.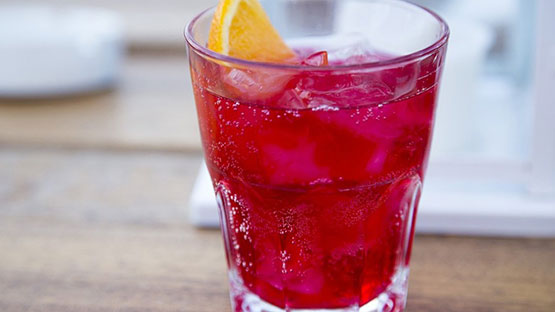 Rose Sherbet

Aromatic Rose Sherbet is a luscious cold beverage to keep you cool during hot and sweltering summers. Made from chilled full cream milk added with rose water, rose syrup, ice cubes etc. sweetened with sugar and served chilled with topping of water soaked basil seeds, this amazing coolant is irresistible to try for its divine sweet flavor.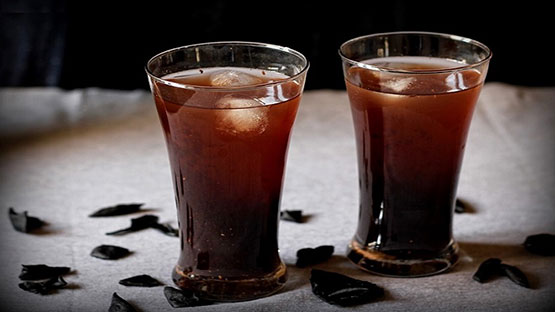 Kokum Sherbet

Kokum Sherbet is a lively sweet and sour cold beverage to keep you cool and hydrated during hot weather of summers. It is prepared from water soaked dry Kokum mashed and strained of water. The residual Kokum is cooked in low heat with sugar, roasted cumin seeds, black salt and regular salt. It is further added with Kokum water and the mixture is boiled. Once the mixture is cooled, it is stored in glass container and refrigerated. The sherbet is made from this mixture by adding chilled water and ice cubes and served instantly to cool your body heat.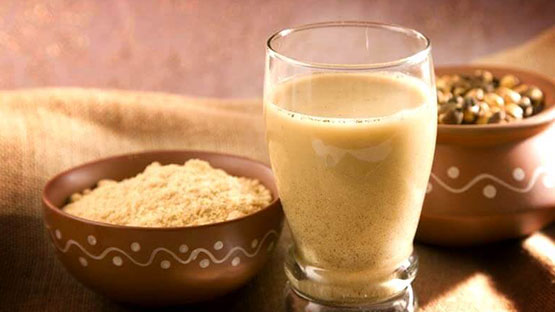 Sattu Sherbet

Scrumptious Sattu Sherbet is a luscious cooling drink from Bihar and North India. Made from roasted black chickpeas (Bengal gram) flour called as Sattu added to chilled water, sweetened with sugar or jiggery powder, seasoned with black salt, flavoured with lemon juice and served instantly will not only sooth your palate, but save you from heat stroke in summers.
These are some of the sweet and savoury cold beverages that can be easily prepared at home and are also abundantly available at the nearby street vendors or eateries. If you wish to know more about such delicacies and locate your nearby joints, download the

App right away!

Back