Best Street Foods in Agra
November 09, 2019
Historical city of Agra also called as the 'City of Taj' and earlier known as Akbarabad is one of the most important cities of North India. The city remained capital of India for three generations of the Mughal Empire under Emperor Akbar, Jahangir and Shah Jahan. Agra is famous for its architectural jewel Taj Mahal, a monument built in marble on the bank of river Yamuna by Emperor Shah Jahan in the fond memory of his beloved wife Mutaz Mahal and remain one of the new Seven Wonders of the World.

The city is famous for its magnificent, forts, buildings and monuments, like- Agra Fort also called as the Red Fort that encompasses Moti Masjid (Pearl Mosque), Jahangir's Palace etc. Other distinguished historical buildings in the city include- Jama Masjid, Mankameshwar Shiva Temple, Gurudwara Guru ka Taal etc. Amazing Taj Mahal, Agra Fort and nearby city founded by emperor Akbar- Fatehpur Sikri are the World Heritage Sites as declared by the UNESCO.

Besides mesmerizing historical structures, Agra is also very famous for its delectable street foods that signify the heritage, culture and traditions of this great city.

This blog of

underlines select best street foods of the glorious city of Agra which can be made easily at home.
Panchhi Petha Store ka Petha

Mouthwatering, soft and chewy Petha is a signature Agra delicacy of Mughal origin relished as a dessert, and is as old and famous as the Taj Mahal. This luscious dish made from white ash gourd (pumpkin) soaked in sugar syrup flavoured with green cardamom powder, saffron, rose water etc. are available in a variety of flavours as dry or juicy. Panchhi Petha Store, located at Hari Parvat crossing area is a famous joint to offer the best iconic Agra Pethas to satiate your sweet tooth.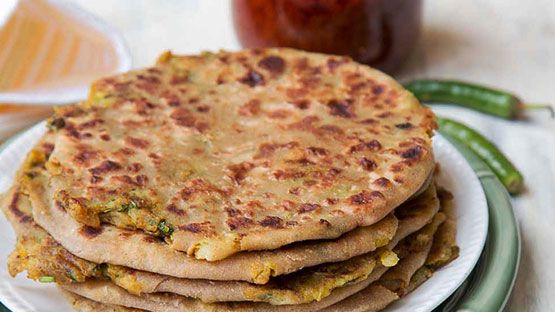 Ram Babu Paratha Bhandar ka Paratha

A savoury, spicy and crisp Paratha/Parantha is an all time favourite breakfast delicacy of legendry Agra. Served in a variety of stuffings with seasonal veggies, like- mashed spicy potatoes, cauliflower, peas, cheese etc. along with tangy pickle, spicy curry, red garlic chutney, green chilies and dollop of butter, Ram Babu Paratha Bhandar, a decades old joint is famous to serve the best variety of spicy and sweet Paranthas in the Taj City.
Agra Chat House ka Bhalla

Unlike, regular Bhallas made from lentil, delicious Bhalla in Agra is a very famous potato dish relished as anytime snack by the locals. It is prepared from the round shaped portions of mashed boiled potatoes added with balanced spices, shallow-fried in oil from both the sides till turn brown. Served hot along with spicy chickpea curry, topped with red sweet and tangy green chutneys, garnished with green coriander lives and diced onions, this spicy, tangy and sweet dish is irresistible to try for its multiple flavours simultaneously. You can have the best Bhallas in Agra at the Agra Chat House located at Sadar Bazar in the Agra Cantonment area.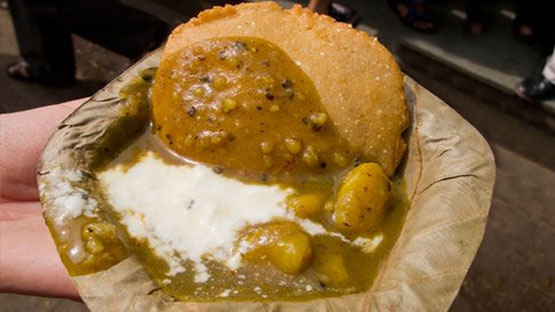 Deviram Sweets and Restaurant ki Bedai

Delectable Bedai is a spicy Kachori like dish relished as breakfast by locals in Agra. This crisp delicacy is prepared by deep-frying round portions of wheat flour dough stuffed with spicy Moong and Udad (green and black lentils). Served hot with green spicy potato cutty topped with a spoonful of yogurt this spicy and tangy delicacy will sooth your palate. Bedai pairs well with hot and sweet Jalebi during breakfast. Deviram Sweets and Restaurant located at Mahatma Gandhi Road in Pratap Pura area serves the best Bedai in Agra.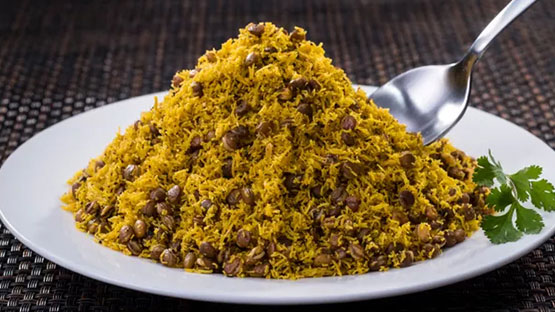 Panchi Petha Store ki Dalmoth

Iconic Dalmoth is again a savoury signature Agra dish relished as a snack or a side dish with main course. This traditional, legendary, crisp and crunchy deep fried delicacy is prepared from whole Moth beans seasoned with myriad of spices. flavoured with cumin and melon seeds and added with fine size Namkeen Sev Served with any hot or cold beverage, this flavoursome dish makes a perfect munch at teatime snacking. Located at Hari Parvat Crossing area, it is a famous joint to offer the best Dalmoth Namkeen in Agra.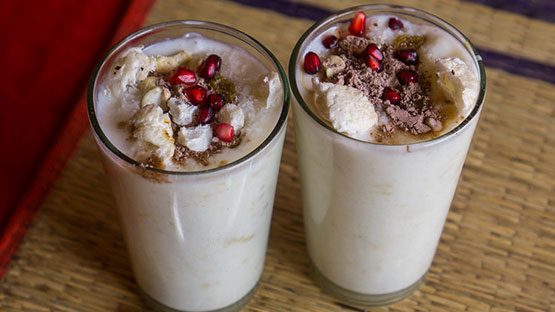 Joney's Place ki Banana Lassi

Delicious Banana Lassi is a sweet and sour beverage relished as breakfast or even a dessert. Prepared by blending in blender full creamy yogurt, ice cubes, diced fresh bananas etc. flavoured with ground green cardamom, sweetened with sugar, this Banana Lassi is a sheer delight to try for its luscious flavour. More than four decades old Johney's Place located at Kutta Park near South Gate in Tajganj area is quite popular to serve the best Banana Lassi in Agra. The joint has the smallest Kitchen in Agra and famous to serve delicious meals, especially, creamy Malai Kofta.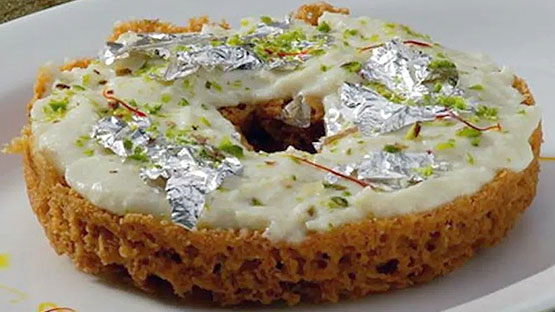 Bikanervale ka Ghevar

Scrumptious Ghewar is a luscious dish originated in Rajasthan and savoured as a dessert. Bikanervale located at Fatehabad Road is famous to offer the best Ghevars in Agra in a wide range, like- Plain Paneer (made from Indian cottage cheese), Rabri (condensed milk of the semi liquid consistency), Malai, Dry Fruits etc. This crunchy disk shaped honeycomb like exotic dish is made by deep-frying in Desi Ghee batter of fine flour flavoure with milk, ground green cardamom, ice cube rubbed clarified butter etc, drizzled with or dipped in to sugar syrup, topped with Indian cottage cheese/Rabri, garnished with dry fruits,like- diced cashews, almonds, raisins etc.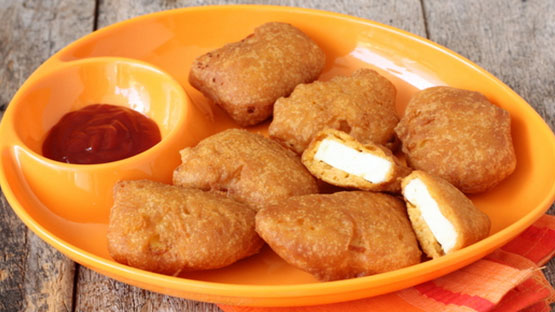 Bhimsain Baijnath ka Paneer Pakoda

Amazingly delicious, Paneer Pakauda/Pakoda is a spicy delicacy savourd as snack or an appetizer, and quite famous in Agra. The best Paneer Pakoda can be relished at Bhimsain Baijnath located at Hari Parwat Crossing on MG Road. This crisp dish is prepared from the Paneer (cottage cheese) marinated with spices, coated with batter of gram flour seasoned with red chili powder, turmeric, coriander, baking soda etc. and deep-fried. Served hot, it is relished with tomato ketchup and green chutney and sure to make your lips to smack.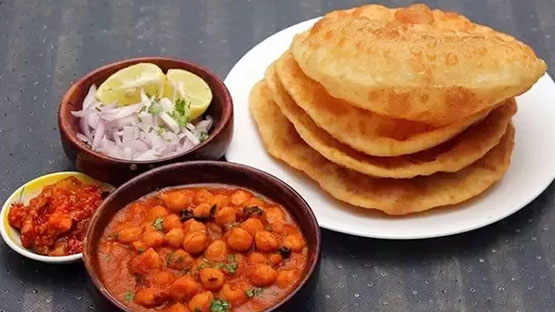 Navratan Fast Food & Restaurant ke Chhole Bhature

Delectable Chhole Bhature is a typical Punjabi spicy dish, quite famous in Agra and relished as breakfast or main course. The puffed Bhatura is prepared from round-shaped portions of leavened fine flour dough added with baking soda, a little salt and deep-fried. It is served hot with spicy chickpea curry fried in gravy of diced onions, tomatoes, garlic, green chilies, bay leaves and black pepper etc., seasoned with an array of regular spices, Chhole Masala etc. and garnished with green coriander leaves, This lip smacking combo served hot with onion rings and salad will tickle your taste buds. Navratan Fast Food & Restaurant locate on Dayal Bagh Road on Old New Agra Thana is famous to serve the best Chhole Bhature in Agra.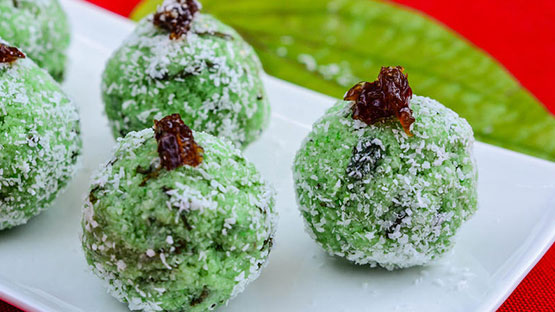 Shyam Ji Misthan ke Paan Laddoo

Mouthwatering Paan Laddoo is a luscious delicacy relished as a dessert or a mouth freshener, prepared on special occasion of festivals or parties and very famous in Agra. Shyam Ji Misthan located at Noori Darwaza is very famous to serve the best Paan Laddoo in Agra. These are basically coconut Laddoos added with mix of betel leaves, Khoya (condensed milk) and Gulkand (sweet preserve of rose petals) and bound in the round shaped Laddoos. Consumed after sumptuous meals, it is a great delight to savour.
These are some of the best street foods in Agra that can be easily prepared at home and are also abundantly available at the nearby street vendors or eateries. Should you know more about such delicacies and locate your nearby joints, download the

app right away!

Back