Best Mouthwatering Foods in Mathura
September 30, 2019
Mathura is a holy and legendary city in Uttar Pradesh state of India and believed to be the birth place of Lord Krishna. It is an ancient city of India that finds its mention in great Indian epic Ramayana as Sharughna, youngest brother of Lord Rama killed a demon named Lavnasur in Mathura. Later on it was called Madhuvan- a dense forest, then Madhupura and currently as Mathura. Originally it was a small village developed into an important city of India. It remained capital of great Indian king Kanshik. Mathura is honoured as one of the heritage city under 'Heritage City Development and Augmentation Yojana' a scheme of Government of India.

This pious city of Hinduism is also known as the 'City of Temples' as there are innumerous temples in the city representing various sects of Hinduism portraying varied forms and incarnation of Lord Krishna. Enchanting temples rich in architectural style, fort and buildings in Mathura are worth visiting, like- Krishna Janm-Bhoomi Temple, Shri Dwarikadhish Temple, Keshadev Temple, Birla Temple, Nidhivan Temple, Banke Bihari Temple, Govardhan Parvat, Kusum Sarovar, Kans Fort, Mathura Museum etc.

Mathura is famous for its mouthwatering foods, especially, milk and milk products and represents rich culture, traditions and heritage of this sacred town. Here one can relish the foods in the streets of Mathura rather than enjoying in the big restaurants of the city.

In this blog

highlights select street foods of Mathura that are drooling and easy to make at home.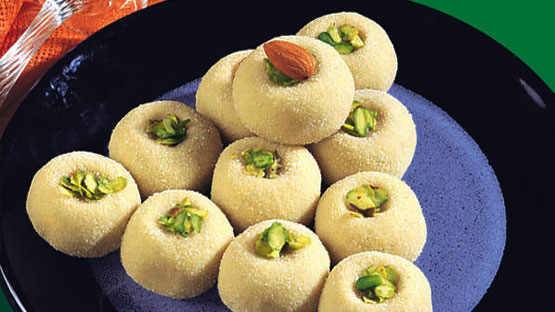 Brijwasi Mithai Wala ke Pede

Delectable Peda is a signature luscious delicacy of holy Mathura synonymous with the city and relished as a dessert. This iconic dish of Mathura is prepared from Khova (condensed milk), sweetened with sugar powder and flavoured with ground green cardamom. This drooling sweet dish will surely sooth your sweet tooth. Brijwasi Mithai Wala located on Holi Gate in Tilak Dwar area is famous to serve the best Peda in the city of Mathura.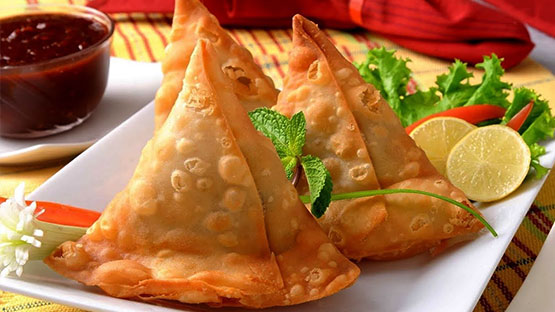 Shankar Mithaiwala ka Samosa

Delectable Samosa is spicy fried pastry relished as breakfast or snack and popular in the of city Krishna Kanhaiya. A variety of Samosas are served here. Made from fine flour dough rolled in triangular shaped. the satvik Samosa (without onions and garlic) is stuffed with mashed boiled potatoes, green peas, cheese, raisins etc., seasoned with regular spices and deep-fried till turn golden brown. Served hot with sweet and green chutneys it is highly tempting to try for its spicy flavour. More than five decades old Shankar Mithaiwala located at Tilak Dwar is famous to serve the best Samosas in Mathura.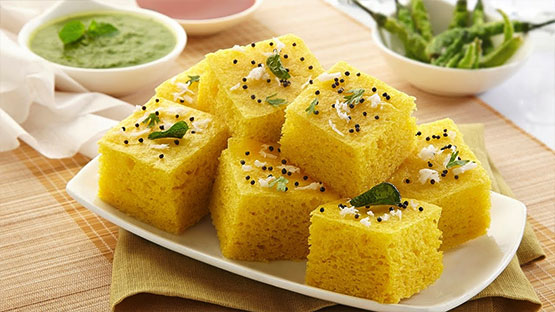 Annapurna Khaman Dhokla House ka Khaman Dhokla

Scrumptious Khaman Dhokla is savoury dish originated in Gujarat and abundantly available in Nand Gopal's Nagari in view of heavy influx of Gujraati tourists. This soft and fluffy delicacy is prepared from the fermented batter of wheat flour and little semolina added with ginger-green chili paste, salt, fruit salt etc., steam cooked and poured with tempering of mustard seed, cumin seeds, slit green chilies, sesame seeds etc. Served by garnishing with green coriander leaves and grated coconut along with green chutney will surely sooth your taste buds. Annapurna Khaman and Dhokla House located at Chhatta Bazar is an authentic joint to serve the best Khaman Dhokla in Mathura.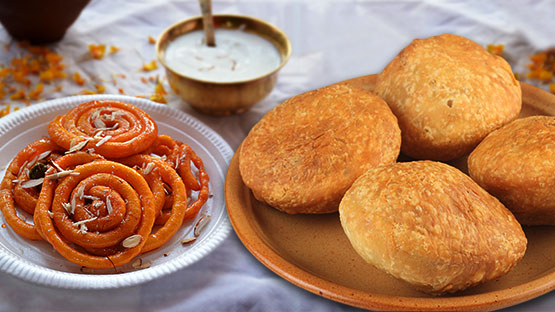 Oma Pahalwan Kachuri Wala ki Kachauri Jalebe

Mouthwatering Kachauri-Jalebi is a spicy and sweet combo traditionally relished as breakfast in Mathura. Deep-fried crisp Kachoris made from fine flour, stuffed with sautéed Moong Dal (green gram) Masala seasoned with an array of spices, served hot with a spicy potato curry followed by serving of large-sized luscious Jalebi made in pure Desi Ghee (clarified butter) from fermented batter of fine flour packed with juicy green cardamom flavoured sugar syrup, is bound to please your taste buds for its spicy and sweet flavours. Oma Pahalwan Kachauri Wala located in Holi Gate area is one of the oldest shop and the right joint to try the best Kachori-Jalebi combo in Mathura.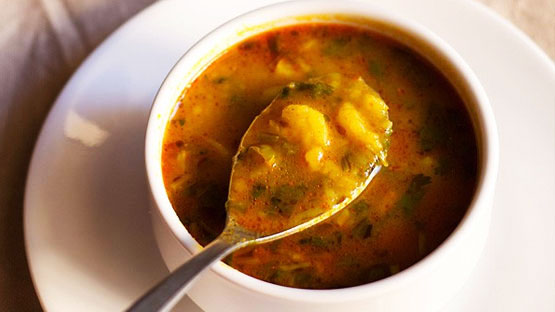 Shri Radha Krishna Dhaba ke Dubki Wale Aloo

A specialty from Mathura, dainty Dubki Wale Aloo is a spicy potato curry. Again a Satvik dish, it is made from the mashed boiled potatoes fried in oil with cumin seeds, asafetida, ginger, green chilies etc. seasoned with salt, Kashmiri red chili powder, turmeric powder, Garam Masala, dry mango powder etc., added with water for making gravy and simmered. Served hot by garnishing with green coriander leaves along with Khasta Kachori, Puri or Luchi, this runny spicy potato curry will surely tickle your taste buds. Shri Radha Krishna Dhaba located ar Bharatpur Mathura Road on Narholi Crossing in Priya Nagari area is famous to serve best Dubki Wale Aoo in Mathura.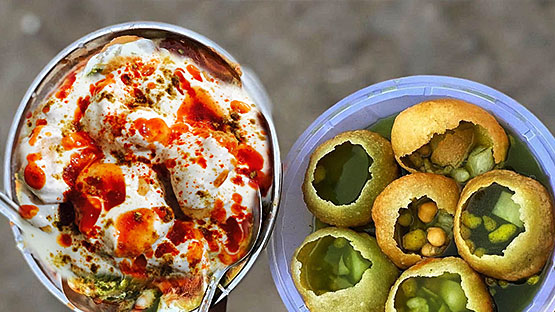 Gopal Ji Chaat Bhandar ke Bhalle and Gol Gappe

Drooling Bhalle is a spicy and tangy dish quite popular in Mathura. It is all together different from what call Dahi Bhalle- a dish made from lentil black gram. Instead this delicacy is a stout Aloo Tikki known as Bhalle in Mathura. The dish is made by deep-frying in clarified butter boiled and mashed patties of potatoes till turn golden brown and crisp. Served hot topped with yogurt along with boiled white peas and spicy green chutney will surely tantalize your taste buds. Similarly, crisp wheat flour Gol Gappe stuffed with spicy filling of mashed potatoes and diced onions dipped in the mint flavoured tangy tamarind water (Paani) is also served here. Gopalji Chaat Bhandar located at Holi Gate is quite famous to serve the best Bhalle and Gol Gappe in the city of Kanha.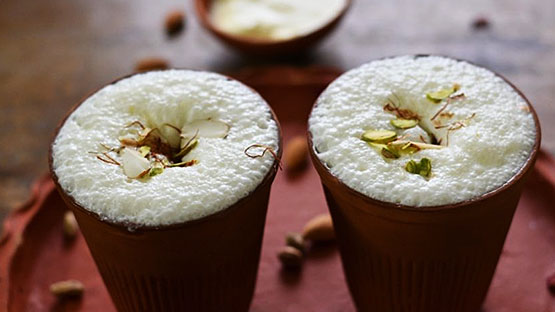 Shankar Mithai Wale ki Lassi

Mouthwatering Lassi is a sweet and sour cold beverage very famous in Mathura being a favourite dish of Lord Krishna. It is made by churning fresh yogurt, water, sugar etc., flavoured with green cardamom powder and rose water. Served chilled in Kulhad (earthen mug) with topping of the thick layer of milk cream and garnished with dry fruits, like- pistachio, diced cashew, almonds etc., this amazingly delicious Lassi will sooth your palate with its ethereal sweet and sour flavours. More than five decades old Shankar Mithaiwala located at Tilak Dwar is famous to serve the best Lassi in Mathura.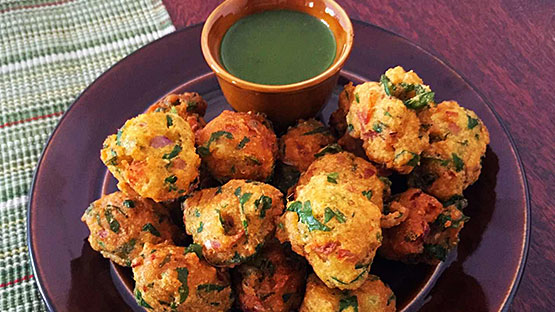 Suresh Chand Pakode Wale ke Moong Daal Pakaude

Delicious Pakaude (fritters) is a spicy delicacy relished as breakfast or a snack and quite popular in Mathura. Moong Daal Pakaude are made by deep-frying the fritters of overnight water soaked lentil- green gram batter seasoned with spices- salt, red chili powder, turmeric powder, coriander powder, asafetida, diced green chilies etc. till turn crisp and golden brown. Served hot with green coriander chutney, these fritters are irresistible to try for spicy flavour. To relish the best Moong Daal Pakaude one must visit Suresh Chand Pakode Wale located at Holi Gate.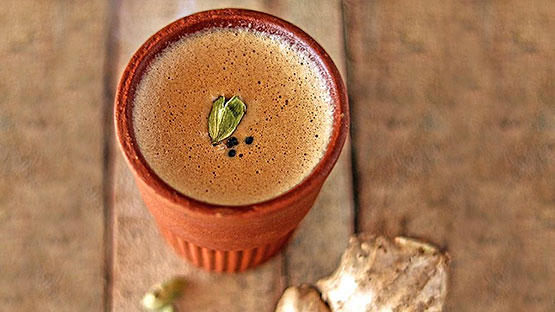 Chai Chowk ki Chai

Delicious Chai (tea) is a hot beverage to refresh you. Prepared by brewing water, cured tea leaves, milk and sugar flavoured with green coriander powder with a hint of ginger, morning or evening tea rejuvenates your energy and freshens up you. Chai Chowk located at Highway Plaza on National Highway-2 is very famous to serve the best tea in Mathura. The joint serves a variety of tea, like- Elaichi Chai, Masala Chai, Gud (jaggery) ki Chai, Kali Mirchi (black pepper) ki Chai, Nimbu Wali Chai (lemon tea), Kadak Adrak Chai (strong ginger tea), black tea, Green Tea etc.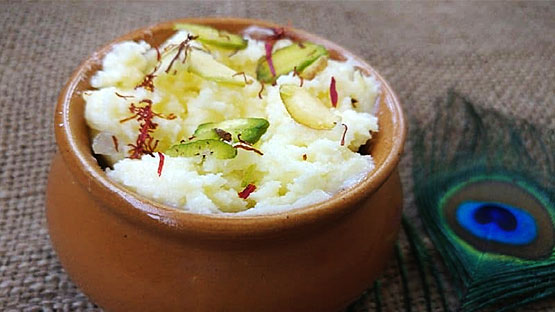 Krishna Janmboomi Mandir ki Makhan Mishri

Makhan Mishri is a luscious delicacy offered to Lord Krisha and one of the rarest dish of Chhappan Bhog. Lord Krishna was fond of Makhan (butter) and popularly known as Makhan Chor (butter stealer). This heavenly dish is made by making butter from the milk cream, sweetened with Mishri Dana (crystallized sugar), added with saffron strands, garnished with dry-fruits, like- cashew, almonds, pistachio, raisins etc. offered to Lord Krishna, and relished as Lords' Prasadam. Shri Krishsna Janmboomi temple is the right place to relish Makhan Mishri.
These are some of the best street foods in Mathura that can be easily prepared at home and are also abundantly available at the nearby street vendors or eateries. Should you know more about such delicacies and locate your nearby joints, download the

app right away!

Back