Best Monsoon Dishes In Jaipur
July 12, 2019
The historical city of Jaipur also popularly known as the Pink City is famous for its grand palaces, forts, museum, temples, Jantar Mantar (astronomical observatory) etc. The monsoon has already set in Jaipur and make it more beautiful providing with a great relief from the scorching heat to the Jaipurites. The Pink city has recently been identified as one of the World Heritage City by UNESCO. Jaipur turns lush green during rainy season as all the majestic buildings and surrounding hills get drenched with rains rendering the city a panoramic view. Besides splendid monumental buildings, Jaipur is famous for its mouthwatering foods representing its rich culture and traditions.

In this blog

endeavours to highlight traditional exotic dishes of Jaipur which are easy to make at home without putting in much of the efforts.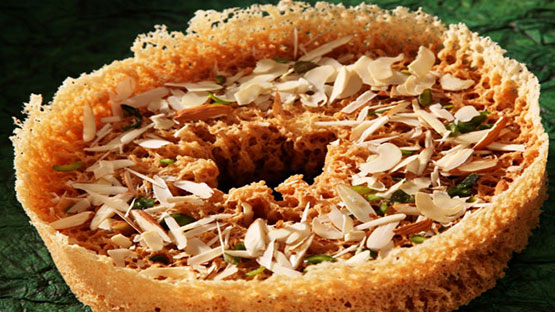 LMB ke Ghewar

Scrumptious Ghewar is a luscious dish having its origin in Rajasthan and savoured as a dessert on the festivals, Teej, Raksha Bandhan, Makar Sankranti etc. Although, Ghevar is available in many a sweet shops in Jaipur, but Laxmi Misthan Bhandar (LMB) located in Johri Bazar in the walled city is quite famous to offer Ghevar in Jaipur with its nearly three centuries experience of sweet making. A variety of Ghevar are available here, like- Plain, Paneer (made from Indian cottage cheese), Rabri (condensed milk of the semi liquid consistency), Malai, Dry Fruits Ghevar etc. This crunchy disk shaped honeycomb like exotic dish is made by deep-frying in Desi Ghee (clarified butter) batter of fine flour added with milk, ground green cardamom, ice cube rubbed clarified butter, drizzled with or dipped in to sugar syrup, topped with Indian cottage cheese/Rabri, garnished with dry fruits,like- diced cashews, almonds, raisins etc.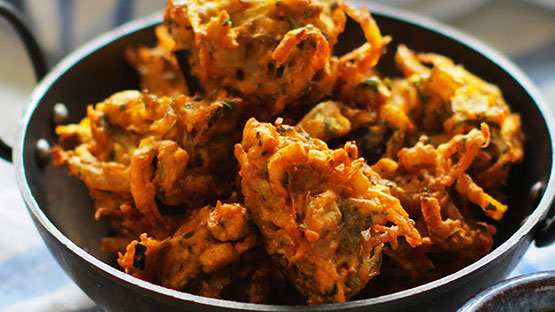 Jagannath Sharma ki Pakodi

Legendry Jaipur is famous for its variety of Pakodis (fritter) and the best place to have it is Jagannath Pakodi Wale located in Tripolia Bazar near Badi Chopad. The joint offers a variety of Pakodis- a spicy delicacy relished as snack or side dish. Pakodis made from the batter of overnight water soaked lentils- black-eyed beans (Chawle ki Daal), green gram seasoned with normal spices or diced seasonal veggies dipped in batter of gram flour seasoned with asafetida, cumin, red chilies, fennel seeds, crushed black pepper, cloves, ginger, green chili, salt etc. and deep-fried in oil. Served steaming hot with tangy green coriander/mint chutney (sauce), these Pakodis will surely make your lips to smack.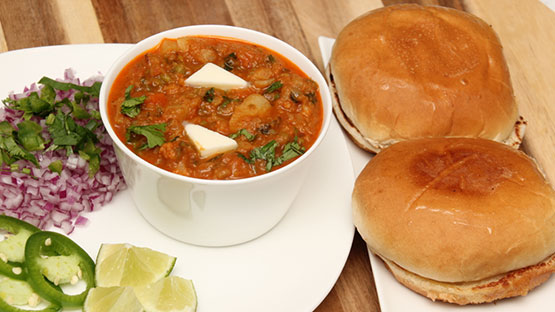 Pandit Pav Bhaaji ki Pav Bhaji

Delicious Pav Bhajji is a spicy dish having its roots in Mumbai, relished as snack or main course of meal and is as famous in Jaipur as in Mumbai. The best place to savour this unique dish is Pandit Pav Bhaji located on JLN Marg, opposite Birla Mandir, Near Moti Doongri Ganesh Templle. This mouthwatering delicacy is prepared by sautéing boiled and grated seasonal vegetables, like- potatoes, bottle gourd, cabbage, cauliflower, tomatoes etc. Served hot with garnishing of green coriander leaves, toped with a dollop of butter, a dash of lemon juice along with onion rings, diced tomatoes, green chutney along with butter roasted Pav will surely sooth your palate during monsoon season in Jaipur.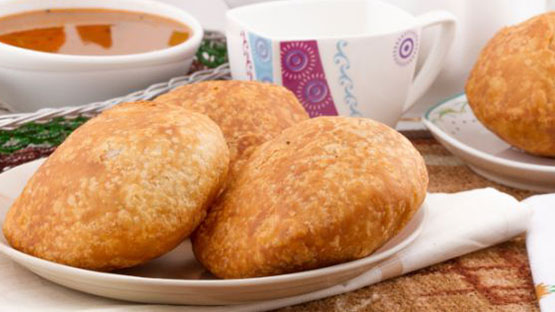 Kota Kachori ki Heeng Kachori

Delicious Heeng (asafoetida) Kachori originated in Kota, Rajasthan is a spicy dish relished as breakfast or teatime snacking. People have a strong liking for this Kachori for its unique asafetida flavor. Kota Kachori is a chain of Kachori shops in Jaipur and various parts of Rajasthan. Serving the taste of Kota Kachoris in Jaipur is the joint- Kota Kachori located at A-1, Ground Floor, opposite Kamal & Company, Tonk Road. This spicy and crispy Kachori is made from the overnight water soaked semi-ground Moong Daal (split green gram lentil) Masala sautéed in oil, seasoned with salt, red chili powder, cumin seeds, asafetida, stuffed in small portions of fine flour dough and deep-fried. Served hot with green chutney, this spicy delicacy is irresistible to try for its strong asafetida and spicy flavours.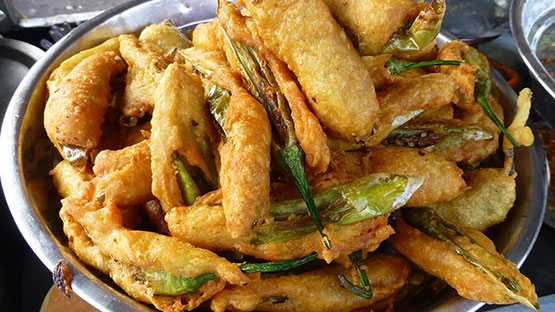 Kanji Sweets ka Mirchi Vada

Delectable Mirchi Vada originated in Rajasthan is a spicy dish relished as breakfast, teatime snacking or a side dish with main course. The best place to grab it in Jaipur is the Kanji Sweets located opposite Polo Victory Cinema. Kanji Sweets is a chain of sweet shops in Jaipur. This crispy delicacy is prepared from the wax pepper (a species of capsicum) sliced in the middle stuffed with boiled mashed potatoes seasoned with salt, red chili powder, cumin seeds, turmeric powder, coriander powder etc., coated with spicy gram flour batter and deep-fried till it turns brown and crisp. Served hot with spicy green and sweet and tangy chutneys, this amazing dish will enhance the pleasure of rainy season in Jaipur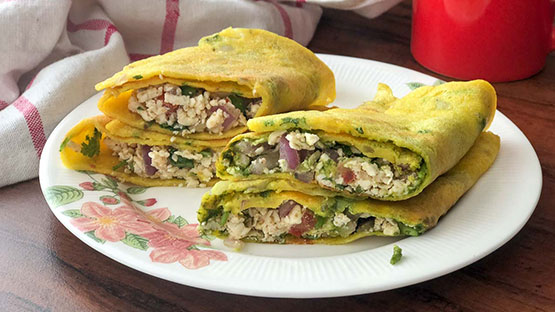 Kalkatta Chat Bhandaar ka Dal Chila

Scrumptious Dal Chila having its roots in Rajasthan is a spicy pancake consumed as breakfast. The right place to enjoy this rare delicacy in Jaipur is Kalkatta Chat Bhandar, located near Secretariat and High Court, opposite Pant Krishi Bhawan, Vaniki Path in C-Scheme area. This crispy dish is made from the batter of overnight water soaked Moong Dal (split green gram) ground in a grinder of the pouring consistency, added with finely cut onions, green chilies, grated ginger, roasted cumin seeds etc., spread on a griddle and cooked from both the sides till turns brown and crisp. Served hot with green coriander/mint, garlic and red sweet and tangy tamarind chutneys, this exotic Indian dish will make you to drool with its spicy flavour and make your rainy season pleasant in Jaipur.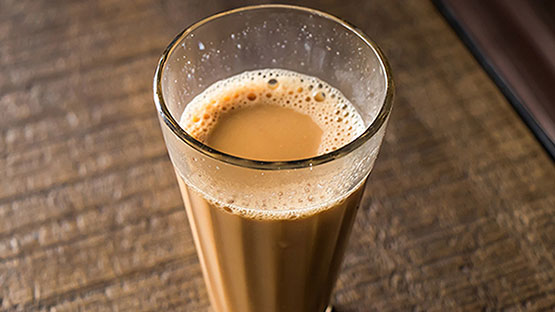 Gulabji ki Chai

Delectable Chai (tea) is a luscious hot beverage devoured in morning, noon and evening hours. The right place to relish best tea in the Jaipur is a small tea stall called Gulabjji ki Chai located on MI Road near Ganpati Plaza. Prepared by boiling tokgather water, full cream milk, cured tea leaves etc. sweetened with sugar, this amazing aromatic tea will refresh you from stress of the day with hint of ginger and flavour of green cardamom and add a great pleasure during rainy days in Jaipur.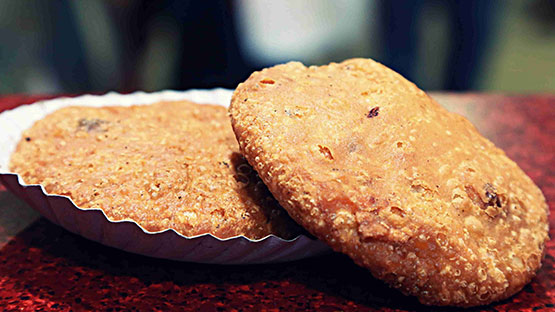 Rawat ki Pyaz Kachori

When it comes on relishing Kachori- a spicy dish relished as teatime snacking, it is the signature Pyaz (onion) Kachori at Rawat Misthan Bhadar at Sindhi Camp, in proximity of both bus stand and railway station. This crisp and spicy dish is made by stuffing portions of fine flour dough with sautéed Masala of finely cut onions and boiled mashed potatoes seasoned with salt, red chili powdwer, turmeric powder, coriander powder, diced green chilies, cumin seeds, pinch of asfoetida (Heeng) and deep-fried till it turns brown and crisp. Served hot with green coriander/mint, sweet and sour red chutneys, this spicy dish will help you enjoy rainy season in Jaipur in the best ways.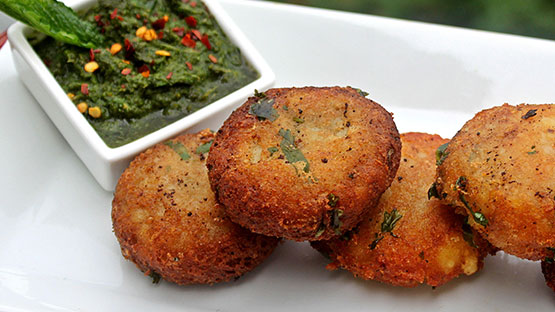 Delhi Chaat Bhandar ki Aloo Tikki

Aloo ki Tikki (Potato Cutlet) is a spicy dish from North India relished as a snack and the best place to enjoy it is the Delhi Chaat Bhandari located at Madho Singh Circle, near Tulsi Marg in the Bani Park area in the Pink City, Jaipur. This spicy and crisp dish is prepared from the round portions of boiled and mashed potatoes added with corn flour and finely cut green coriander leaves seasoned with spices, like- salt, Kashmiri red chili powder, cumin powder, coriander powder, Saunth (dry ginger powder), Chat Masala and shallow fried on both the sides till it turns golden and crisp. Served hot with spicy green coriander and sweet and tangy red chutneys along with diced onions and spicy chickpea curry, the dish will tantalize your taste buds during monsoon season in Jaipur.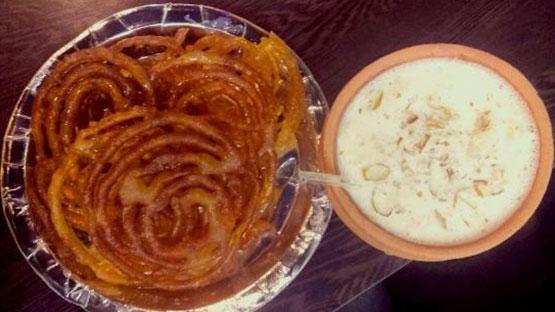 BMB ki Doodh Jalebi

Doodh Jalebi is an awesome combination to relish as a snack or dessert. Best place to savour this combo in Jaipur is the Bombay Mishthan Bhandar (BMB) located at Sanganeri Gate on MI Road. Prepared from fermented batter of fine flour deep-fried in clarified butter (Desi Ghee) in circular shapes and soaked with the sugar syrup flavoured with cardamom. Served hot with a hot glass of simmered milk garnished with dry fruits, like- diced almonds, cashews, raisin, pistachios etc., it is pleasant to relish this combo in Jaipur during rainy season owing to its heavenly luscious flavour.
These are some of the best monsoon dishes in Jaipur that can be easily prepared at home and are also abundantly available at the nearby street vendors or eateries. If you wish to know more about such delicacies and locate your nearby joints, download the

app right away!

Back