Best Foods in Varanasi
July 27, 2019
The legendary city of Varanasi also known as Banaras, Kashi or 'Spiritual Capital of India' is one of the oldest cities of the world. This ancient city is situated on banks of two tributaries of the holy Ganges- Varuna and Assi rivers, hence gets its name Varanasi. It is also called as the city of Lord Mahadeva as one of the twelve Jyotirlinga is here at Baba Kashi Vishwanath temple. One is baffled to imagine how old this pious city is. Famous author Mark Twain has rightly described the ancientness of the city in his description, "Benares is older than history, older than tradition, older even than legend, and looks twice as old as all of them put together."

This holy city is famous for its enchanting Ghats (steps of stone slabs along the river bank where pilgrims take bath and perform ritual ablutions) numbering some 84 including famous Dashashwamedh , the Manikarnika , the Panchganga and the Harishchandra Ghats, architecturally designed mesmerizing temples, like- Sankat Mochan Hanuman temple in Lanka area, new Kashi Vishwanath temple in Banaras Hindu University campus, Annapurna temple in vicinity of Vishwanath Temple etc., mazy winding lanes, nearby Sarnath in the Ramgarh fort area where Lord Buddha delivered his first discourse to his disciples after attaining enlightenment etc.

There is an old saying in Gujarati- 'Surat Nu Jaman Ane Kashi Nu Maran' meaning thereby is Surat is famous for its best foods while dying in Kashi is the best as one gets salvation of the cycle of death and rebirth in this mundane world. This thrilling city is also famous for delectable street foods that represent its true culture and traditions and is influenced by the neighbouring states of Bihar and West Bengal.

In this blog

puts in efforts to highlight some select street foods of Varanasi which can be prepared at home easily.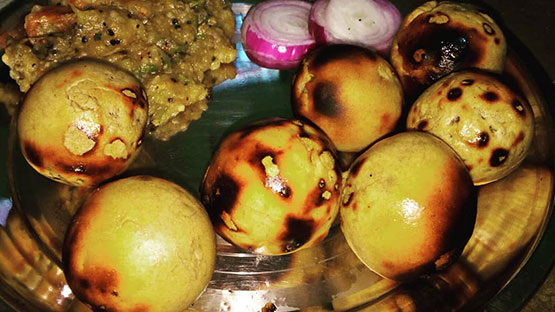 Baati Chokha Restaurant ka Baati Chokha

Delicious Baati Chokha is a spicy dish from Bihar and is relished as main course. The right place to savour this exotic delicacy in Varanasi is the Baati Chokha Restaurant located at Anand Mandir Campus, Teliya Bagh. This wholesome combo serves Baati, popularly known as Litti in Bihar made from the round portions of whole wheat flour added with pinch of salt, roasted Bengal gram (Sattu), pickle Masala, mustard oil, lemon juice, Kalonji, ginger, coriander leaves, green chilies, salt etc. baked in an oven, soaked with pure Desi Ghee (clarified butter) along with Chokha prepared from roasted egg plants and tomatoes added with spices, and dash of lemon juice. Served hot by garnishing with finely cut green coriander leaves, this awesome combo will satisfy your hunger pangs.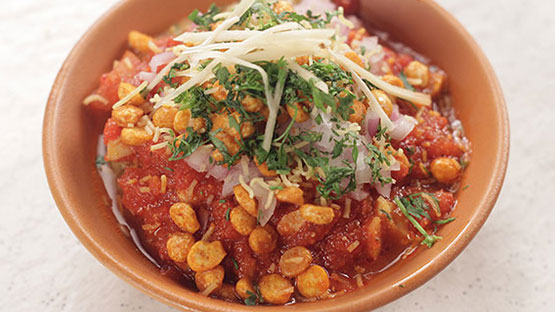 Deena Chaat Bhandar ki Banarasi Tamatar Chaat

Delectable Banarasi Tamatar Chaat is a spicy, sweet and sour dish relished as snack and is as famous as Banarasi Paan (betel). The best joint to have it in Varanadi is the iconic Deena Chaat Bhandar located at Luxa Road, Godowlia involved in this business for the last five decades. This mouthwatering salad is prepared by sautéing in mustard oil finely cut onions, green chilies, ginger, diced tomatoes, boiled and mashed potatoes etc. seasoned with indigenously prepared spices, like- salt, black salt, red chili powder, Garam Masala, Chaat Masala, cumin powder, little jaggery etc. Served instantly in a paper plate by garnishing with coriander leaves, Namak Para (a crunchy savoury snack prepared by deep frying ribbon like pastry of salted fine flour dough), Namkin Sev (deep fried vermicelli of gram flour dough) etc., this rare delicacy will make you to drool.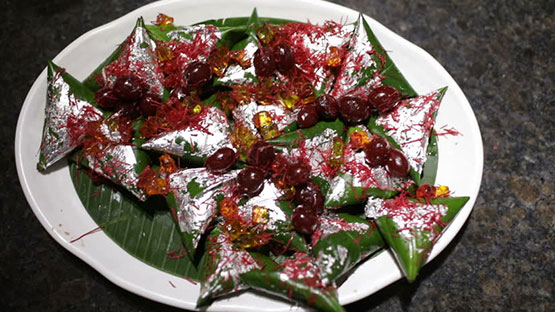 Rajendra Chaurasia Paan Bhandar ka Paan

Signature Banarasi Paan (betel) is a flavoursome mouth freshener relished after sumptuous meals. Banarasi Paan is so famous that it is filmed in a famous Bollywood movies- 'Khai ke Paan Banaras Wala.' The right betel shop to try this iconic Paan in Varanasi is Rajendra Chaurasia Paan Bhandar located in Chowk area. This highly tempting Paan is prepared from a Kalkatti or sweet betel leaf (Meetha Patta) smeared with lime and Catechu, added with soft and chewy beetle nuts, Gulkand, grated flavoured nuts, green cardamom, sweet chutney, sugar coated fennel seeds etc. This melt in mouth Paan will surely tickle your taste buds after heavy lunch or dinner or at any time of the day you feel like having it.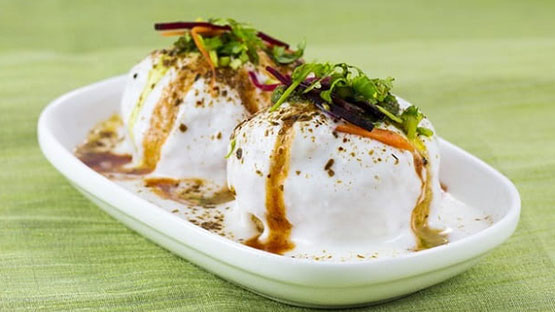 Deena Chaat Bhandar ka Chhena Dahi Bada

Scrumptious Chhena Dahi Bada is a unique dish of Varanasi savoured as breakfast. The best place to try it in Varanasi is Deena Chaat Bhandar located at Luxa Road in Godowlia area. Unlike the regualar Dahi Bhallas made using lentil, this exotic dish is made from round portions of Chenna (hung yogurt) cooked in sugar syrup. These sweetened round portions are poured with sweetened yogurt, added with sweet red chutney, sprinkled with salt, red chili powder, roasted cumin powder, black salt etc. Served with a hot cup of tea this spicy, sweet and sour dish will surely sooth your palate.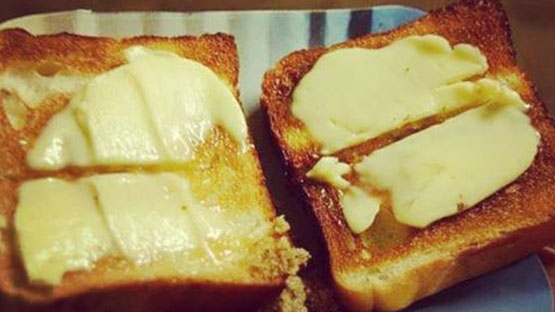 Laxmi Chai Waley Restaurant ka Safed Makhan Toast

Crisp and buttery Safed Makhan (white butter) Toast is a popular savoury snack relished as breakfast in City of Lord Shiva. Laxmi Chai Waley Restaurant located in Maldahiya area of the Banaras is famous to serve the best Makhan Toast prepared by toasting fine flour bread on a coal oven. Served hot by applying plenty of white butter along with steaming hot cup of tea makes it a perfect breakfast for its savoury flavor.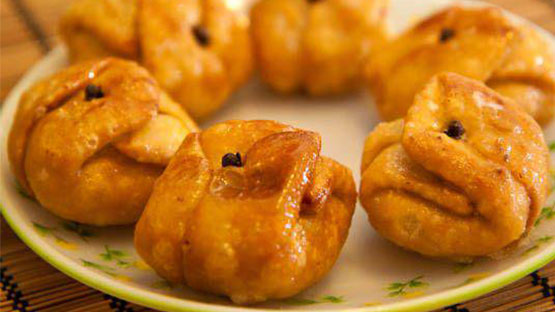 Rajbandhu ki Launglata

Amazingly delicious, Launglata also called as Lavang Lata (clove flavoured pastry) is a luscious dish that finds its roots in West Bengal and relished as a dessert. The dish is meticulously made from portions of fine flour dough stuffed with Khoya (condensed milk), dry fruits, like- diced almonds, cashews. Pistachios etc. deep fried in clarified butter (Desi Ghee) and dipped in sugar syrup flavored with ground green cardamom, crushed cloves (Laung) etc. Served instantly, this mouthwatering sweet and spicy delicacy will tickle your sweet tooth.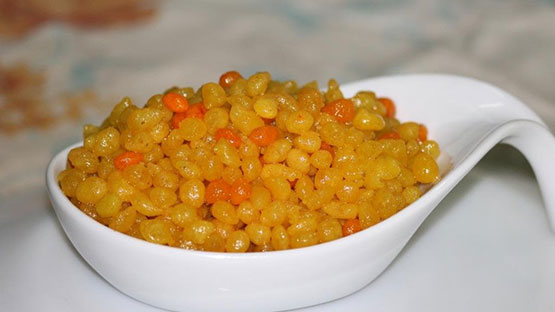 Ksheer Sagar ki Buniya (Bundi)

Delectable Buniya also called as Bundi is a luscious dish relished as a dessert. The dish is prepared on festive occasions, like- Holi, Deepavali, Raksha Bandhan etc. or offered to Gods as Bhog and distributed among devotees as Prasadam. It is prepared by deep frying in pure desi Ghee (clarified butter) tiny droplets of gram flour batter, immersed in the sugar syrup flavoured with green cardamom powder. The dish can be best relished at Ksheer Sagar sweet shop located at Sonarpura Road crossing in Varanasi.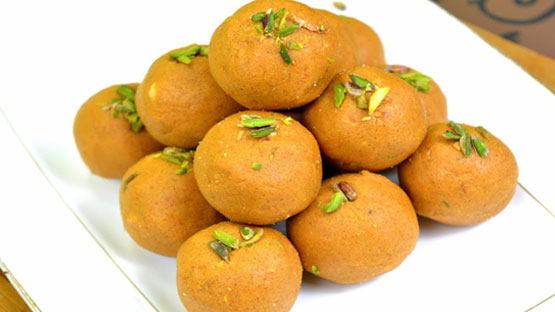 Sankat Mochan Wale Besan Ke Laddu

Mouthwatering Sankat Mochan Wale Besan ke Laddoo/Laddu is a delectable sweet dish. It is offered to Indian God Lord Hanuma at the Sankat Mochan temple located in the Lanka area added with holy basil (Tulsi) and consumed as Prasadam. The right joint to relish these Laddoos in Banaras is Ksheer Sagar sweet shop situated at Sonarpura Road. This luscious delicacy is prepared by roasting coarse chickpea flour (Besan) roasted in clarified butter, added with crystallized sugar, allowed to cool down and bound into the round shaped portions. Served as Prasadam, these Laddoos are highly tempting to try for its aroma of Tulsi and Ghee and divine luscious flavor.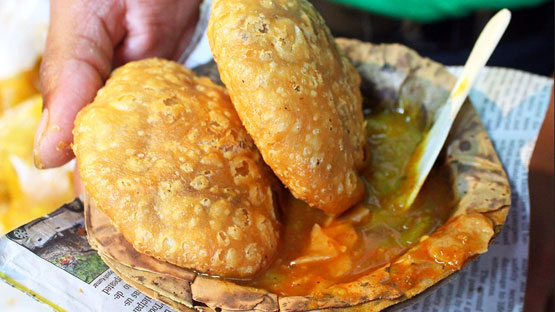 Ram Bhandar ki Kachori Sabji

Delicious Kachori Sabji is a spicy dish and the most popular in Varanasi to relish as breakfast or any time snacking. This crunchy dish is made in two sizes- Small Kachoris and Bigger Kachoris. The Kachoris are made from the small round portions of fine flour stuffed with lentil (spicy sautéed green gram Masala) in the big sized Kachoris and with spicy Masala of sautéed boiled and mashed potatoes in the small sized Kachoris. Served hot with a spicy, sweet and sour curry of potatoes, chickpeas and Badis (dried dal paste) added with special spicy chutney, the combo is irresistible to try for its spicy, sweet and tangy flavours. The best Kachori and Sabji can be savoured at Ram Bhandar located at Thatheri Bazaar.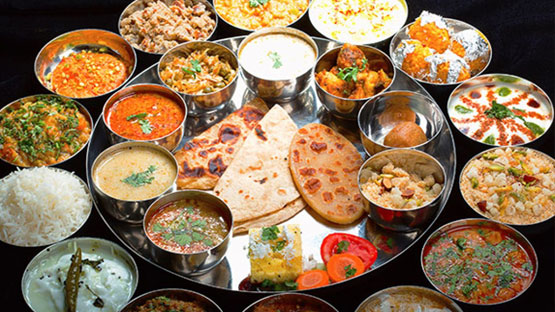 The Bhog/Bhojan at Annapurna Temple

One can have a scrumptious platter (Thali) of Bhog free of cost at Annapurna temple located adjacent to old Kashi Vishwanat temple in Godowlia area. Mother Annapurna is the reigning Goddess of Food of and Nourishment and is the Goddess of Varanasi city. The Bhog (food items offered to Gods) has a variety of dishes in the platter provided with to the devotees, like -steamed rice, Daal (spicy stew), Roti/Puris, a seasonal Sabji (curry with gravy), dry roasted Papad, tangy pickle, fried potatoes, yogurt and a piece of sweet. One can have as much Bhog as required, but shouldn't go waste. The platter is very filling and highly tempting for its heavenly flavours.
These are some of the top dishes in Varanasi that can be easily prepared at home and are also abundantly available at the nearby street vendors or eateries. Should you know more about such delicacies and locate your nearby joints, download the

app right away!

Back