Best Appetizing Foods in Amritsar
February 22, 2020
Holy city of Amritsar also known as Ambarsar and Ramdaspur is an important city located in Punjab state of India. As per historical records it is famous for its Gurdwara- Harmandar or Harimandar Sahib (meaning abode of God) or Darbar Sahib (meaning exalted court) also known as Golden Temple and remains the main spiritual and cultural center to Sikhism. The city gets its name from Amrit Sarovar (a pool of nectar) having healing power, constructed by Guru Ramdas in the Tung village, later known as Chakk Ramdas and currently as Amritsar.

The city finds its roots since Treta Yug as it is believed to have an Ashram (a spiritual hermitage) of sage Valmiki now called as Bhagwan Valmiki Tirath Sthal, popularly known as Ram Tirath. It is said that here in this Ashram Goddess Mata Sita, wife of Lord Ram gave birth to her sons- Lav and Kush. This pious city has many other legendary and historical places, like- Laxmi Naraya Temple popular as Durgania temple where sons of Lord Ram caught the horse of Ashvamedha Yagn and tied Lord Hanuman to a tree near this temple. Amritsar cannot be forgotten for Jaliawalan Bagh massacre when hundreds of peacefully protesting people were killed by firing ordered by General Dyer in the year 1919.

Besides legendary places and historical buildings, temples, fort, museum and nearby Wagah border, Amritsar is also a paradise for food lovers, known as the food capital of Punjab and represents rich culture, heritage and traditions of this holy city. In this blog

introduces select mouthwatering food delicacies that can be easily made at home and make you to drool over.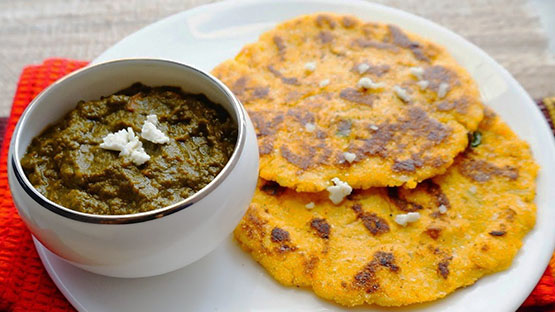 Bharawan Da Dhaba ka Makke di Roti te Sarson da Saag

You are bound to get tempted to try delectable Sarson Da Saag te Makke Ki Roti when in Amritsar- a spicy combo relished as a main course during winters. Saag (curry) made by sautéing boiled and ground green Sarson (mustard), Palak (spinach) and Bathua (chenopodium album) leaves in mustard oil along with finely cut onions, garlic, ginger etc., seasoned with an array of spices. Served hot with a dollop of butter along with Makke ki Roti (flat bread of corn flour) and jaggery will surely tickle your taste buds. Decades old Bharawan Da Dhaba located near Town Hall is famous to serve the best Makke di Roti te Sarson da Saag combo.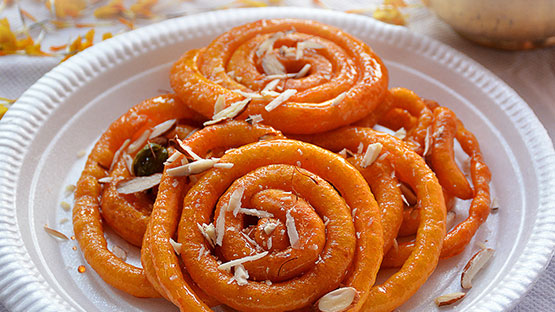 Gurdas Ram Jalebi Wala ki Jalebi

Chockablock with sugar syrup, delicious Jalebi is a luscious delicacy quite popular in the holy city of Golden Temple and devoured as a dessert. This sweet dish is prepared from fermented batter of fine flour deep-fried in spiral shape in pure Desi Ghee (clarified butter), dipped in green cardamom flavoured sugar syrup. Served hot, this Jalebi will surely satiate your sweet tooth. To have the authentic and best Jalebis in Amritsar, head to Gurdas Ram Jalebi Wala located in Katra Ahluwalia.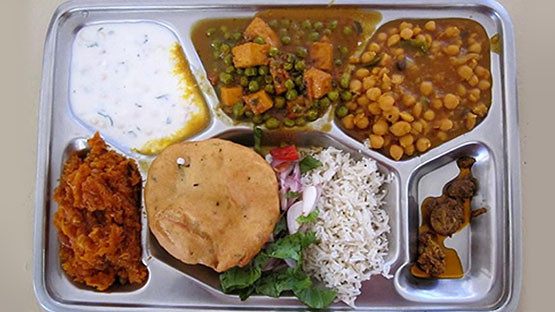 Guru ka Langar and Kara Prasad

It is a great bliss to be blessed with grubs at Guru ka Langar and Karah Prasad at holy Golden Temple located at Atta Mandi in Katra Ahluwalia area. Thousands of people queue up to have their meals enmasse at this pious place. Here food is available round the clock. Though meals served is very simple comprised of wheat flour Rotis (flat Indian bread), steamed rice, Daal (spicy stew of lentils) and vegetable curries, but served with utmost love, affection and care and really touches your heart. It is further complimented with Karah Prasad- luscious semolina and whole wheat flour Halwa (pudding) made in clarified butter and sweetened with sugar. And it is all free; you don't have to pay anything here except for a great devotion and faith unto the Lord Almighty.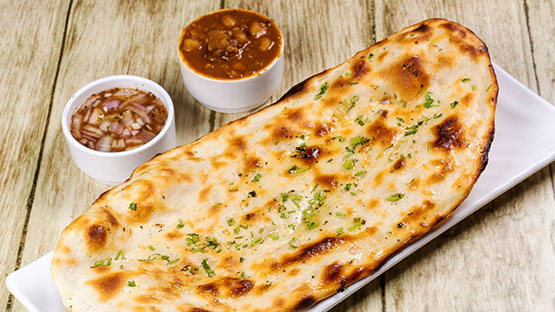 Kulcha Land ka Amritsari Kulcha

Amritsari Kulcha is a signature Amritsar dish relished as breakfast or main course of meal at lunch or dinner. This spicy dish is made from the portions of leavened fine flour dough, spread with finely cut green coriander leaves, stuffed with spiced boiled and mashed potatoes and baked in a Tandoor (earthen Indian stove). Laden with plenty of butter, this authentic Punjabi dish is served hot with spicy Chhole (chick pea)-cheese curry and spicy Daal Makhani (stew of black gram and kidney beans) along with shredded onions and tangy pickle and sure to satiate your food cravings. You may relish the best Amritsary Kulchas at Kulch Land located at District Shopping Centre in Ranjit Avenue.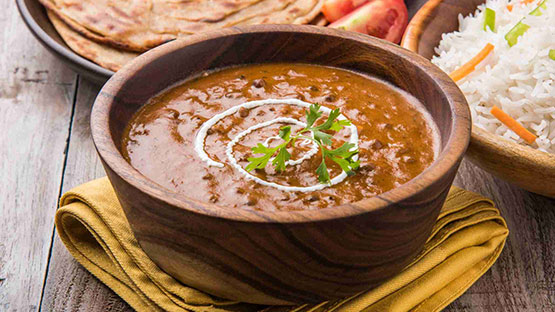 Kesar Da Dhaba ki Mah ki Dal

Awesomely delicious Mah ki Dal/Daal also known as Amritsary Dal or Langarwali Dal is an iconic spicy stew consumed with main course of meal. This exotic Amritsari delicacy is prepared by slow cooking overnight water soaked lentils- black gram (Udad Dal) and split Bengal gram (Chane ki Dal) for long hours in a pot and tempered with sautéed finely cut onions, garlic, ginger, green chilies etc., seasoned with regular spices and simmered. Served hot by adding a dollop of butter along with plain/Tandoori Roti/Parantha/Naan or steamed rice, your taste buds are delighted with a unique spicy flavor. Decades old Kesar Da Dhaba located at Chowk Passian near Telephone Exchange is a famous eatery to serve the best Mah ki Dal in Amritsar.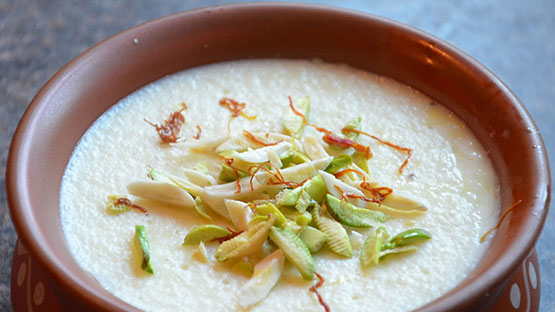 Ahuja ki Phirni

Mouthwatering Phirni is rice and milk based desert relished on festive occasions in Punjab and quite famous in Amritsar. This amazingly toothsome delicacy is prepared by boiling rice and almond paste in milk till turns thicker, sweetened with sugar, flavoured with green cardamom powder and saffron strands and garnished with shreds of almond and pistachios. Served chilled, this creamy and nutty desert is irresistible to try for its heavenly sweet flavor. Ahuja Milk Bhandar located near Hindu College at Hathi Gate is famous to serve the best Phirni in holy city of Amritsar.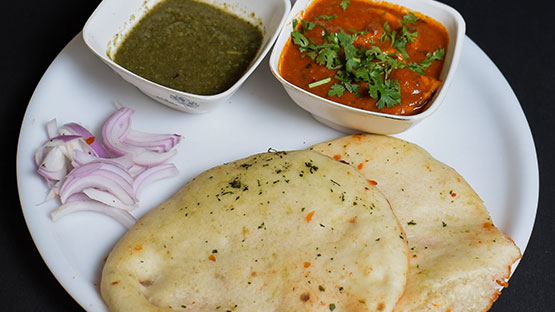 Sabri Bhature Wala ka Nutri Kulcha

Besides famous Amritsari Kulcha, Nutri Kulcha is yet highly sought after dish in Amritsar. This nutritious dish rich in protein is made from water soaked soy chunks sautéed with finely cut onions, garlic, ginger, green chilies etc. added with tomato puree, soy sauce, seasoned with an array of spices, flavoured with Garam Masala, added with water and simmered on low heat. Served hot with Kulchas along with diced onions and green chutney, this delectable Punjabi dish is sure to tickle your taste buds. You can relish best Nutri Kulcha combo at Sabri Bhaturewala located near Amritsar Backpackers Hostel in vicinity of Amritsar Railway Station.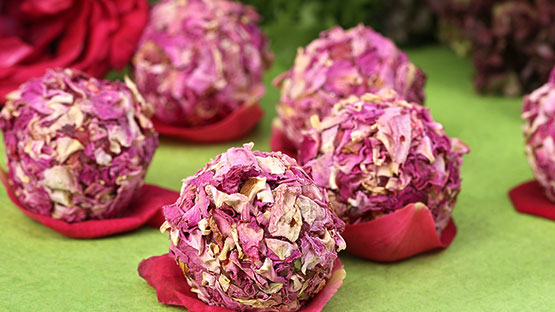 Kanhaiya Sweets ke Rose Badam Laddoo

Rose Badam Laddu/Laddoo is a unique luscious delicacy and very famous in the holy land of Golden Temple. The dish is prepared by mixing almond paste, Gulkand (sweet preserve of rose petals), sugar powder, rose syrup etc., flavoured with ground green cardamom and bound in to desired round shape. Served instantly, this amazingly delicious Laddoo is irresistible to try for its ethereal sweet flavor. To devour the best Rose Badam (almond) Laddoos in Amritsar, you may visit Kanhaiya Sweets located at Lawrence Road in Joshi Colony area.
Novelty Sweets ki Dodha Barfi

Liked by people of all age groups, melt in mouth Dodha Barfi is a delectable sweet dish relished as a desert and quite popular in Amritsar. This mouthwatering delicacy is prepared by boiling milk along with alum till it attains a thicker consistency, added with Ghee till the mixture turns grainy and dark in colour, spread in a plate coated with Ghee, topped with dry-fruits, cut in into pieces of the desired shapes and refrigerated. Served chilled this exotic dessert will make you to drool for its amazing luscious flavor. Novelty Sweets located at Novelty Chowk is famous to serve the best Dodha Barfi in Amritsar.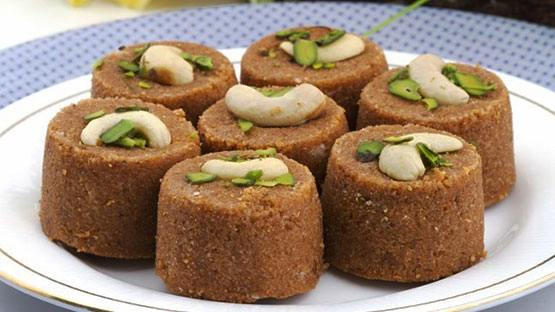 Bansal Sweets ki Pinni

Scrumptious Pinni also called as Pindi is a traditional Punjabi sweet delicacy relished as a dessert. This flavoursome dish is made by roasting whole wheat flour/black gram flour/Besan etc. in pure Ghee, sweetened with sugar powder/jaggarey, added with milk, dry-fruits, like- diced almonds, cashews, pistachios etc. and bound in to round shape Laddoos and garnished with whole almonds. Served at breakfast with hot milk or tea this highly nutritious and healthy sweet dish will satiate your sweet tooth. Right joint to serve the best Pinni in Amritsar is the Bansal Sweets located at Lawrence Road,
These are some of the best foods in Amritsar that can be easily prepared at home and are also abundantly available at the nearby street vendors or eateries. Should you know more about such delicacies and locate your nearby joints, download the

app right away!

Back